The Best Online Study Tools for College Students by State
When it comes to innovative study tools for college students, social media is lending a helping hand. With the mounting pressure of balancing extracurricular activities, sports, clubs and classes, students are watching TikTok's study influencer videos for more innovative study hacks.1 It's clear that students are looking for ways to step up their study game in hopes of earning 4.0 GPAs and creating stellar transcripts, which is why Grand Canyon University (GCU), in partnership with Grand Canyon Education (GCE), analyzed the Google search volume of various online study tools to discover the most studious states across the U.S.
Maybe you do your best studying in the twilight hours, or perhaps you work best with a study buddy. As we all handle distractions differently, it's important to create the study system that works best for you so you can get into the studying mood and pursue academic success! Get ready to take notes on which states received top marks for their meritorious study habits.
In This College Study Tools Guide:
Methodology to Find the Best Study Tools by State
Using Grade Hacker, Mashable, G2, Rigorous Themes and Make Use Of, we compiled a list of 42 keywords related to online study tools.2,3,4,5,6 We looked at five years' worth of data to find out which study tools college students are searching for the most to help them in and out of the classroom. Next, we added the search interests across all the study programs and apps together for each state and calculated a total search interest on a scale of 0 to 100 (where 0 equals little to no search interest and 100 equals the most search interest).
The calculated total search interests across the country represent the most studious states by highlighting which ones are searching for these study platforms most often online. We assume those that are searching for study tools the most are also studying more often. Take a study break and discover which states are hitting the books the hardest!
The Most Studious U.S. States Using Online Study Tools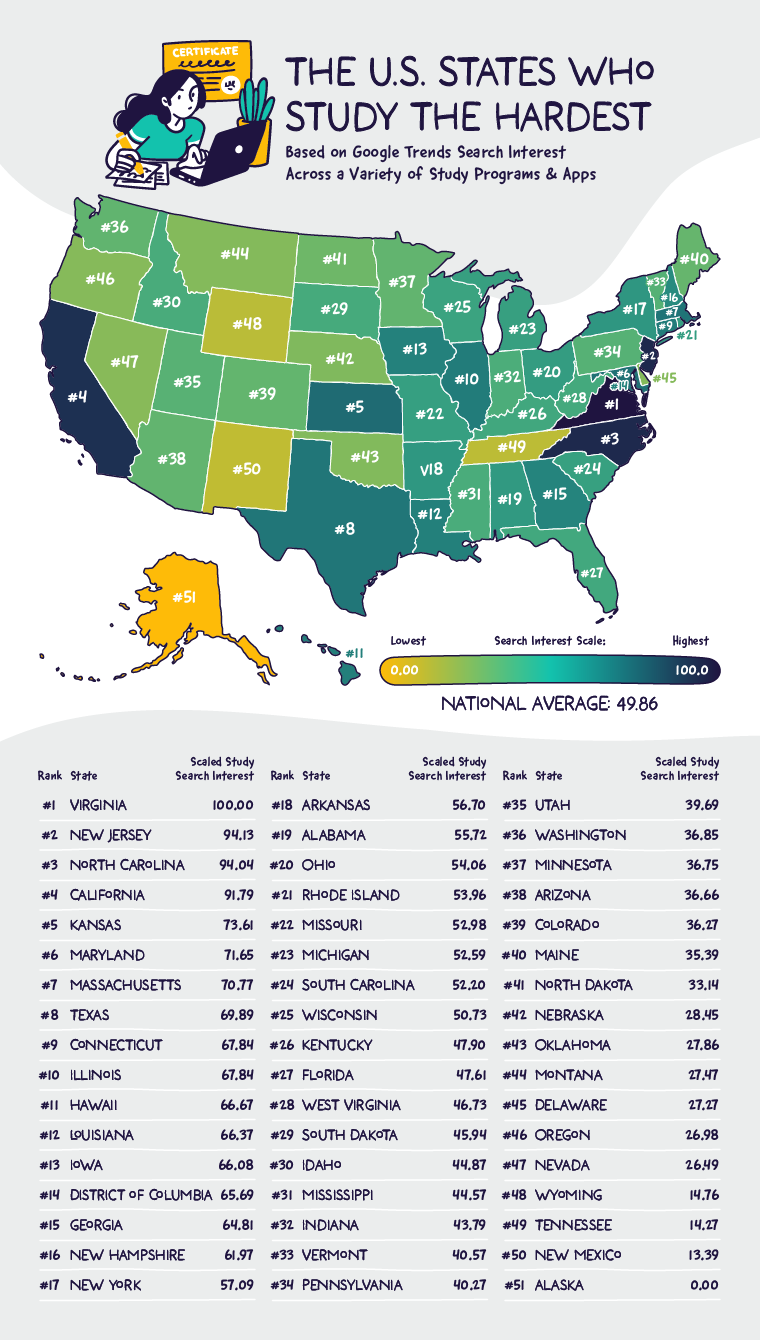 Certain states take studying to new heights while others are less ambitious. Virginia is for studiers, as the state had a perfect score of 100.00 with top marks across the board. The Old Dominion state had the highest search interest for GoConqr, Desmos and Flip (formerly known as FlipGrid).7,8,9
GoConqr is like a personal study assistant, as the tool features practice quizzes, note-taking software and study planner features, while Desmos offers an online graphing calculator and Flip allows you to create online groups to share study tools and videos. According to one study, Virginia ranked fourth in the country for top-performing public K-12 schools, which may explain why they gravitate toward these comprehensive study tools.10
Other honorable mentions include New Jersey, which came in second with a total score of 94.13 out of 100. New Jersey students had the highest search interest for online study tools like Sapling, 1Checker and Flip.11, 12, 9 Sapling and 1Checker proofread for grammar and spelling mistakes.
According to SafeHome.org, New Jersey is the smartest state in the U.S., as they receive top SAT scores across the board.13 As the SAT is composed of math, reading and writing sections, it's possible New Jerseyans are getting on board with these study tools.14
North Carolina placed third with a total score of 94.04 out of 100. The state considered Quizizz, Flip and Desmos to be among some of the best study tools.15,8,9 According to data from the Pew Research Center, nearly 100% of all millennials use the internet, which could explain why they are more comfortable with online tools like Quizizz. The online tool, Quizizz uses themes and music to motivate students to engage in teachers' lesson plans rather than the traditional teaching methods other generations have grown up with.16
Next on our list is California, which came in fourth with a total score of 91.79 out of 100. The Golden State leaned toward top study tools and software like Notion, Learning Management System and Zoom.17,18 Cities like San Francisco are welcoming generational cohorts like Generation Z with open arms to the Bay Area.19 Lucky for California, the Gen Z demographic cohort feels their professional and academic achievements are a vital part of their identity, which means they may gravitate toward tools like Notion, which helps you to organize your online workspace to help keep your schoolwork organized.20
Honor roll states like Kansas made headway as the fifth most studious state with a total score of 73.61 out of 100. Kansans are fond of study programs like Brainscape, Duolingo and Flip.21,22,9 Brainscape produces online flashcards, Duolingo helps students to learn new languages and Flip creates private study groups. With Kansas being home to some of the most affordable private schools, it makes sense why students are looking to gain an edge on their education by implementing these unique study tools.23
The Most Popular Study Tools for College Students Overall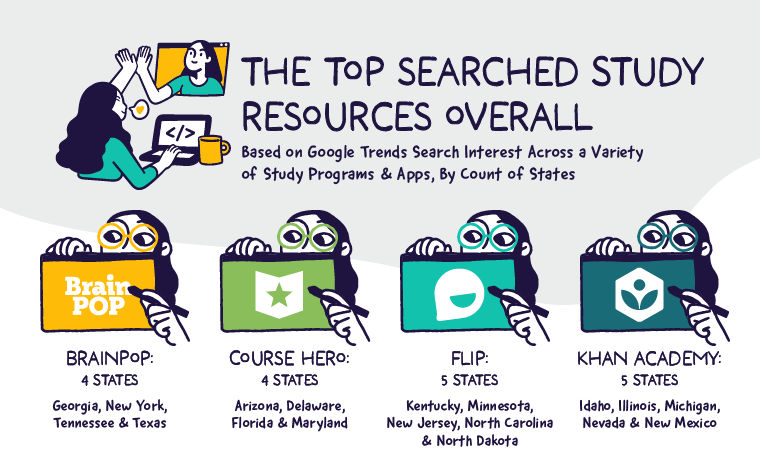 Four out of five college students now say that digital learning technology helps improve their grades as they seek the best study tools for late-night study sessions and after-school tutoring, but not all study programs are created equal.24 According to our data, certain study tools stole the show over others.
Flip had the highest search interest in states such as Kentucky, Minnesota, New Jersey, North Carolina and North Dakota.9 Flip allows educators to share video tutorials and lessons online with their whole classroom, which is ideal for those studying STEM.
North Dakota, North Carolina and Minnesota all rank as some of the best states for STEM majors to secure jobs post-graduation, perhaps prompting their interest in this versatile study method.25 GCU's STEM majors can use Flip to review STEM-related resources in a study group.
Who needs a private tutor when you have Khan Academy?26 This online study tool provides students with personalized learning and trusted content. This study tool was most beloved by Idaho, Illinois, Michigan, Nevada and New Mexico. States like Nevada and Illinois are reeling from unprecedented teacher shortages.27 These states might be equipping their students with online study tools like Khan Academy to not disrupt any gaps in their learning.
BrainPop creates learning solutions for kids in grades K-8.28 It had the highest search interest in Georgia, New York, Tennessee and Texas. With Georgia having the largest public school (average number of students) with 751 students and Texas following close behind with an average of 609 students, it's possible that class sizes in Georgia and Texas are rather high.29 To stay on top of their study game and compensate for possible larger than average class sizes, the use of BrainPop may assist teachers in allowing them more one-to-one teaching opportunities.
For those looking to pursue a teaching degree, you may find BrainPop as a handy study tool in your future classroom!
Those in Arizona, Delaware, Florida and Maryland leaned toward Course Hero as their favorite study tool.30 One of the top go-to study tools for college students, Course Hero tailors study materials for courses taught at specific universities. Arizona and Delaware don't have the highest level of employment when it comes to tutors, which may mean students are trying to improve their study habits on their own with the help of this innovative resource.31
Final Thoughts on How Online Study Tools Stack Up
Achieving top academics and getting good grades does not come easy for everyone, which is why some states rely on study systems and programs to help you earn top marks. Technology today is exploding with innovative study programs like GoReact, Loom, Google Calendar and Ebsco, and some states are gladly embracing the new technologies of a more modern education!
At GCU, we understand the importance of helping you from your very first day of classes to the day you graduate, to job placement and beyond. Whether you need help narrowing down your college major or need some successful study tips for college, we've got you covered. As of June 2022, GCU offers over 250 online degree programs. Check out our various majors and programs so you can create the future you've always dreamed of and step into the next academic chapter of your life with confidence and success. 
Retrieved from:
1 Engadget, How TikTok can help you get better at studying in September 2022
2 Gradehacker, 7 Best Helpful Websites and Apps for College Students in 2022 in September 2022
3 Mashable, 12 websites all college students should bookmark in September 2022
4 G2, Top 10 Quizlet Alternatives & Competitors in September 2022
5 Rigorous Themes, 10 Best Free Grammarly Alternatives 2022 in September 2022
6 Make Use Of, The 8 Best Chegg Alternatives You Can Try in September 2022
7 GoConqr, Growth through Learning in September 2022
8 Desmos Studio, PBC., Desmos in September 2022
9 Microsoft, Flip in September 2022
10 WalletHub, States with the Best & Worst School Systems in September 2022
11 Sapling, Sapling in September 2022
12 1Checker, 1Checker in September 2022
13 Fox29, New Jersey is the smartest state in the U.S., study says in September 2022
14 StudyPoint Inc., The SAT: Format, Structure, and Question Types in September 2022
15 Quizziz, Inc., Quizziz in September 2022
16 Pew Research Center, Millennials stand out for their technology use, but older generations also embrace digital life in September 2022
17 Notion Labs Inc., Notion in September 2022
18 Zoom Video Communications, Inc., Zoom in September 2022
19 SFist, Gen Z Moving to San Francisco More Than Any Other Group in September 2022
20 Barna, Is Gen Z the Most Success-Oriented Generation? in September 2022
21 Bold Learning Solutions, Inc., Brainscape in September 2022
22 Duolingo, Duolingo in September 2022
23 GoBankingRates, These 10 States Have the Most Affordable Private Schools in September 2022
24 McGraw Hill, New Survey Data: Four Out of Five College Students Say Digital Learning Technology Helps Improve Their Grades in September 2022
25 ISE Magazine, Study Reveals Best States for STEM Majors in September 2022
26 Khan Academy, Khan Academy in September 2022
27 Vox, Are teachers leaving the classroom en masse? in September 2022
28 BrainPop, BrainPop in September 2022
29 Public School Review, Average Public School Student Size in September 2022
30 Course Hero, Inc., Course Hero in September 2022
31 U.S. Bureau of Labor Statistics, Occupational Employment and Wages in September 2022
Approved by the Executive Director of Communications on 10/11/22.
The views and opinions expressed in this article are those of the author's and do not necessarily reflect the official policy or position of Grand Canyon University. Any sources cited were accurate as of the publish date.