Unmasking Mascots: Analysis of NCAA Mascots
With classes once again in full swing, the newest generation of freshman is getting its first taste of college life, while seniors are gearing up for their final year of higher education before starting careers. These groups of students are at very different places in their educational journeys, but one thing that bonds them with one another, as well as past alums, is rooting on their school's athletic teams.
One of the defining characteristics of college athletics is change – specifically when it comes to how quickly rosters change. Players are usually limited to four years of eligibility, so the makeup of teams changes frequently, making it all the more special when a program finds the right mix of players to catch lightning in a bottle and make a serious run at a conference or national championship.
While there is a lot of radical change in college sports, there is one aspect that is rarely altered: the mascots. Sure, the mascot suits or literal animals filling the mascot role may change from time to time, but the team nicknames rarely do. That means that the same mascots that were rooted for in the 1970s, whether they be the Bulldogs, Wildcats or Antelopes, are being rooted for still today.
Here at Grand Canyon University, we wanted to know which mascots and team names have experienced the most athletic success. Are Tigers the fiercest competitors on the field? Do teams named after birds have more success than teams named after colors? Just how many teams call themselves Bulldogs and how good are they?
Seeking answers to those questions and more, we decided to dig up as much information as possible on our fellow Division I athletic programs and their success. We uncovered data on all 345 schools that compete in the NCAA on the Division I level and charted and illustrated some of the most interesting findings to share. No matter what kind of mascot college sports fans hold closest to their heart, we think they will find something interesting in this analysis – we know we did!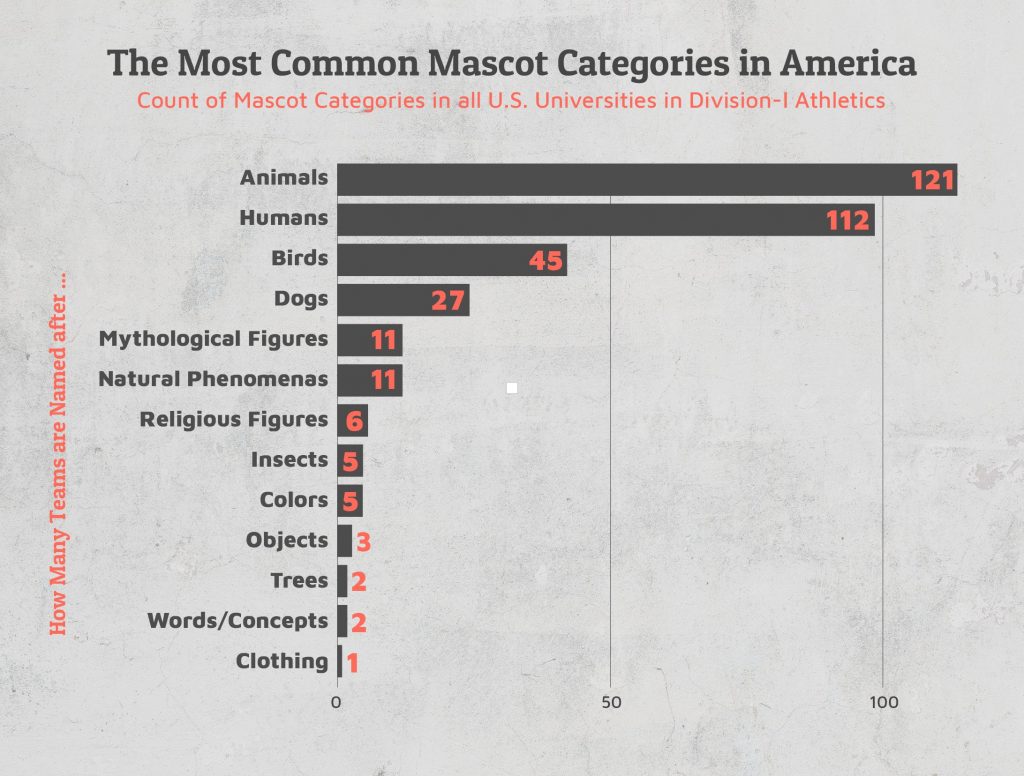 One of the first things we decided to do was look at all of the Division I mascots and categorize them. As we went through the list of team names, some of the broader categories became obvious, like creating an "Animals" grouping for teams named after creatures. We also noted that enough teams were named after specific types of dogs and birds that we pulled them out of the broader Animals category and gave them their own groupings.
Even with those creatures (and insects) excluded from the broader categorization, Animals proved to be the most common nickname among top-level college athletic programs with 121 schools naming their teams after some kind of beast. The only other category with at least 100 schools falling under its umbrella was the Human category that encompasses familiar nicknames like Spartans, Trojans and Highlanders.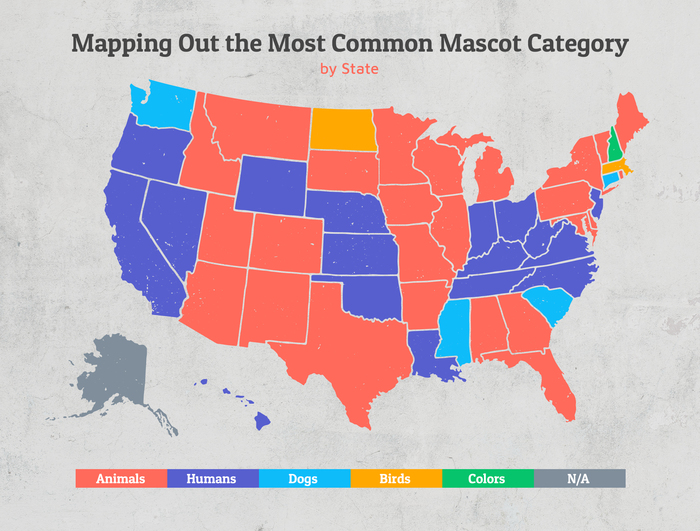 Beyond just seeing which category of mascot is most popular overall, we wanted to see what kind of mascot is the most common among schools in each state. To find that out, we noted the nicknames and mascots of every Division I institution in all 50 states and then totaled up how many fit in each of the established categories for this analysis.
Once we figured out which mascot category reigns supreme in each state, we decided to map out the results. It wasn't surprising to see that Animals are the most common mascot category than any other option, as they took the crown in exactly half of the states in America. Also in line with the overall category were schools named after Humans, claiming 17 in all.
While the overall popularity of certain nicknames and mascots is impressive, one thing we wanted to see was how well teams in these categories performed in competition. To evaluate athletic success, we researched how many all-time regular season conference championships every school currently competing in the NCAA's Division I has won in football, men's basketball and women's basketball since joining the top tier of collegiate athletics.
We also supplemented those conference championships by finding out how many national championships every school has won on the Division I level across all sports. We then divided by the number of schools that fit in each group to find out which team name category experiences the most success on average in each sport as well as athletics in general.
When it comes to men's hardwood success, Native American teams find the most success, as the six teams in that category have won 11.5 conference titles on average, led by the 25 conference championships won by the Utah Utes. When it comes to women's basketball, teams named after Colors dominate their conferences more than any other category, with the 24 conference championships won by the women of the Stanford Cardinal.
When it comes to gridiron success, teams named after trees reign supreme thanks to the 36 conference titles won by the Ohio State Buckeyes. When combined with the 0 conference championships won by Indiana State, the only other team in the Tree category, the average for the Tree teams drops to 18 football conference titles, making the Buckeyes that much more impressive. When it comes to winning national championships in general, one nickname category dominates all others. Across all sports contested at the NCAA Division I level, schools with team nicknames based on Colors have won an average of 30.40 national titles, over 11 more than the next closest category of Tree-based teams.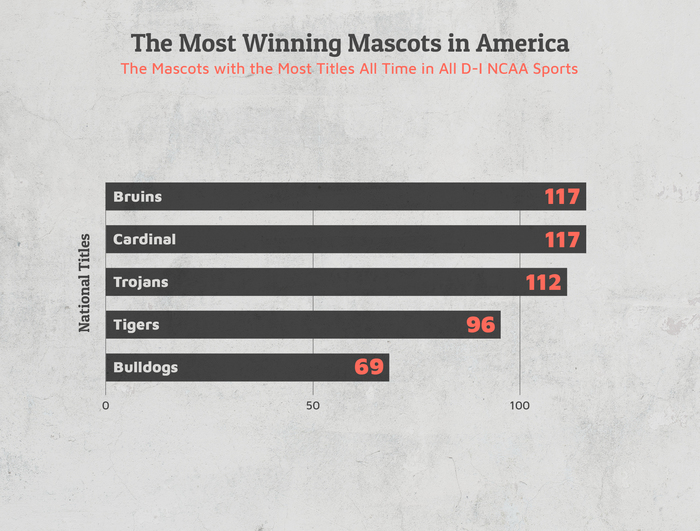 The biggest reason the Color category garnered so many national championships is due to the success of Stanford University's athletics program. Teams representing the Cardinals have won 117 titles across all sports, tied with their Pac-12 Conference rivals, the UCLA Bruins, for the most in the nation. A third Pac-12 team, the USC Trojans, is the only other school with at least 100 titles to their name.
While UCLA and USC are not the only schools with their respective nicknames, they are the only ones with those nicknames to have won national championships of any kind. That is not the case for the Tigers and Bulldogs, however, as these mascots see their cumulative national championship total split among multiple schools. The 96 championships won by teams called the Tigers are shared by seven different institutions, while five schools have contributed to the 69 national titles earned by Bulldogs.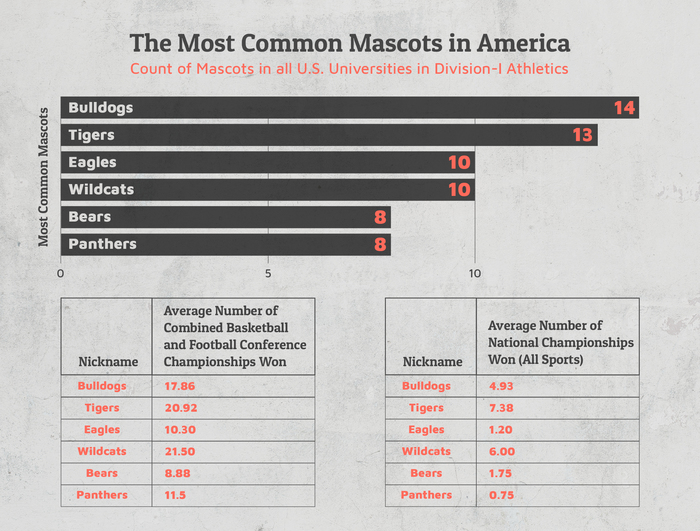 Speaking of Bulldogs and Tigers, we found that those are the two most common specific team nicknames in all of Division I, with the 14 teams calling themselves Bulldogs narrowly edging out the 13 Tiger teams. The Tigers proved to be more productive, however, winning more national and conference championships on average than their canine competitors.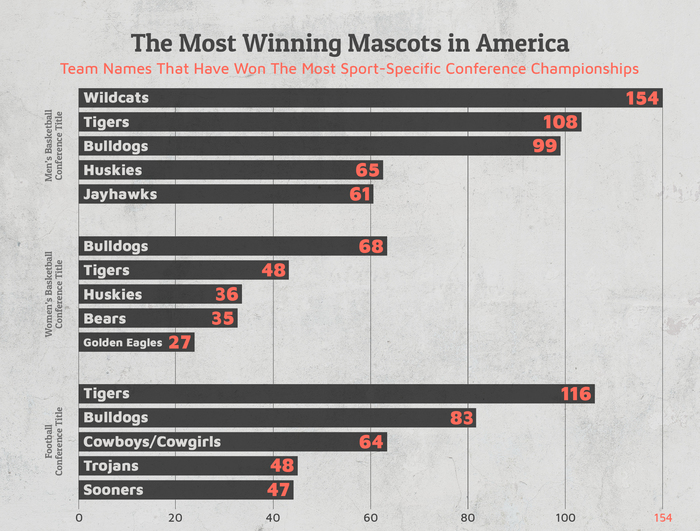 Interestingly, each of those nicknames was able to lay claim to the top spot for a specific sport included in our analysis in terms of cumulative conference championships won. Tiger teams have won more combined football conference championships than any other nickname, while Bulldogs have done the same in women's basketball. When it comes to men's hoops, however, both the Tigers and Bulldogs come up well a combined total of 154 men's basketball conference titles (and in case you were wondering, only 49 of those belong to the University of Kentucky).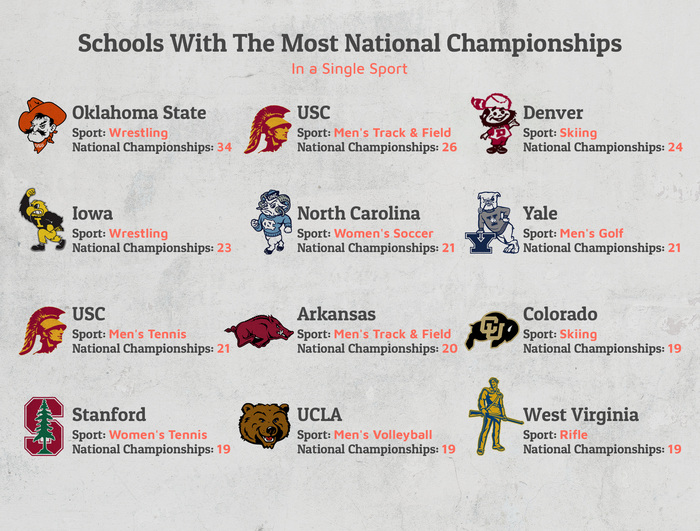 All this championship research got us interested in seeing which schools were the most successful in specific sports. Thankfully, the NCAA keeps great records when it comes to the various sports they award championships to and makes that data publicly available. Those records revealed a dozen Division I institutions that had won at least 19 championships in a single sport.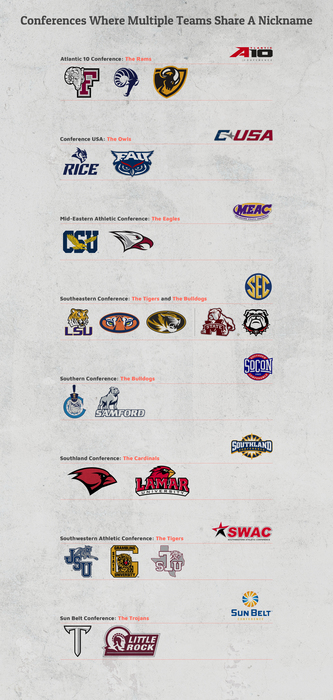 There are some titles, like the 19 rifle national championships won by West Virginia, that many sports fans might not readily associate with college sports. However, many others are fairly mainstream sports that have been historically dominated by specific programs, like Oklahoma State's incredible 34 national titles in wrestling and USC's 26 championships in men's track and field.
One final quirk we noticed throughout this process is that, every now and then, there will be multiple teams in a single conference with teams that share a nickname. Three different conferences even have three teams with the same name, as the Atlantic-10 has three Rams as members, while both the SWAC and the SEC have three Tigers. The SEC is also the only school where repeated team names occur not once but twice, as in addition to the three Tiger squads the conference also has a pair of Bulldogs.
No matter what their favorite college team is named after, sports fans around the country can agree that when students return to campus in the fall, it's a time to celebrate the start of a new school year…another season of college sports. Oh, and Go Lopes!
Scroll back to top