How to Build a Strong Nursing Team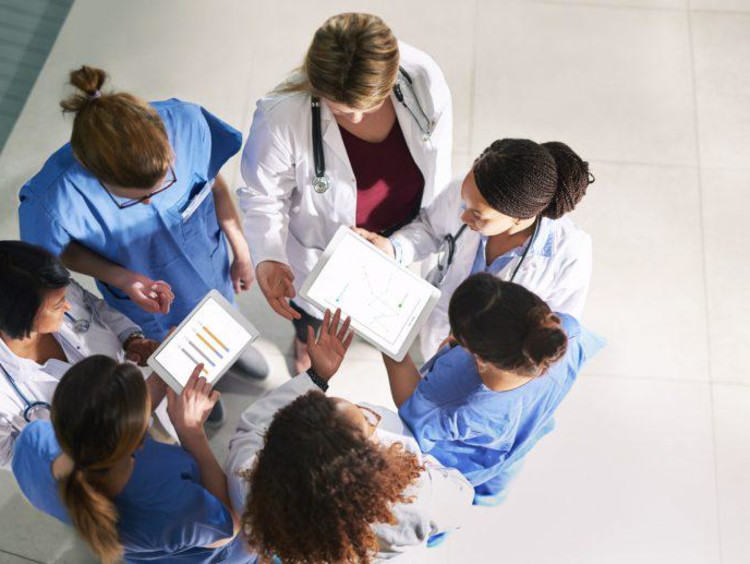 Any job has the potential to involve stress and interpersonal conflict, but it doesn't have to be this way. When the workplace is a hospital and those who are ill and injured are relying on the health care providers, it's essential for those providers to work well together as a cooperative team. A strong nursing team is also integral to high job satisfaction, retention rates and overall quality of life for the employees.
Communicating Effectively with Your Colleagues
Excellent patient care doesn't happen in a vacuum. It takes a team of RNs, LPNs, NAs and unit secretaries working together to give patients the best possible outcome. One of the cornerstones of teamwork is communication. When you're handing over care of a patient at the end of your shift, you can ensure smooth continuity of care by communicating every detail about that patient. Doing so also reduces the risk of medical errors. Don't hesitate to speak up if you need help from your colleagues. Asking for and giving assistance freely builds trust among team members.
Promoting a Friendly, Supportive Workplace
Health care is demanding work. When a shift is especially busy and you're trying to do a dozen things at once, it's easy to let good manners and professionalism take a backseat. But remember that you're part of a team and modeling professionalism and calmness under pressure will encourage the rest of your team to do the same.
Something as simple as a genuinely friendly smile will brighten everyone's day. When disagreements do occur, don't take it personally. Be receptive to constructive criticism and phrase your own feedback in positive, productive ways. Additionally, take the time to get to know your co-workers on a personal level. Invite other team members to eat lunch with you.
Building rapport is a step toward building trust. Knowing your team well also allows you to assess how someone's personality or current life events might affect any given situation.
Dividing Responsibilities and Offering Help
Most nurses would probably agree that the one thing they all wished they had more of was more time. When you're pressed for time, you might not be eager to offer your assistance with another nurse's patient. Try to be adaptable and offer your help regardless. Volunteering even a few minutes of your time to help out a team member will go a long way toward building camaraderie. Your team member will remember your efforts and will be more likely to extend a helping hand to others. Additionally, it often makes sense to shift some responsibilities around according to each team member's own strengths and weaknesses, even if this requires providing care for another nurse's patient.
Is nursing management in your future? Enroll in Grand Canyon University's Master of Science in Nursing with an Emphasis in Leadership in Health Care Systems. By the time you earn your degree, you'll be well-equipped with the skills necessary to be an effective and ethical team leader. To find out more, click on the Request More Information button.