Doctoral Scholar Resources
From your first day through graduation, the College of Doctoral Studies provides faculty support, scholarly networks and residency opportunities to help you advance to the highest degree in the United States post-secondary education system. We offer a wealth of student resources to support learners, including the Center for Innovation in Research and Teaching and the Office of Institutional Effectiveness. Receive personal guidance, take advantage of the campus and online support systems you need to complete your dissertation and take the next steps in both your academic journey and career.
I feel grateful and blessed to be a GCU doctoral student and look forward to the completion of the program.
The Dissertation Process
Unlike many doctoral programs where learners are expected to complete a core set of specializations prior to beginning their dissertation, you will begin the dissertation process at the start of your program of study. In the first course, we will introduce you to the doctoral dispositions with emphasis on understanding expectations for scholarly work.
In subsequent research courses and residencies, milestones are established to allow you to progressively build the skills necessary to critically synthesize doctoral research literature, identify a researchable topic, develop theoretical framework, conduct the research study and finally defend your dissertation.
To learn more about GCU's dissertation process and time to completion, visit our doctoral programs page.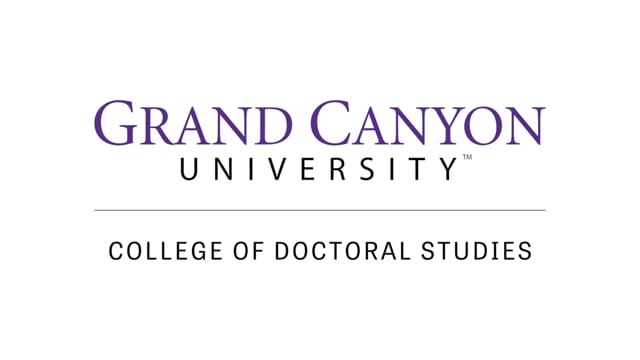 Doctoral Community (DC) Network
The Doctoral Community (DC) Network is a unique virtual scholarly network that keeps learners well connected throughout their program and after graduation. Interactive communication, instant notification of new content and indexed search functionality help enable collaboration and connection among individuals with similar academic interests. Communicate with faculty, peers and alumni and benefit from research, media, blogs and discussions.
CDS Community Involvement
The College of Doctoral Studies is strongly committed to serving others on local, national and global levels. Annual volunteer events include the Memorial Day Salute Our Troops celebration and the Run to Fight Children's Cancer. We also look for new opportunities to serve by providing support to those affected by tragic and unforeseen events throughout the world. 
Office of Research and Dissertations
This office works in conjunction with academic colleges to ensure quality in the doctoral programs. Members of the Office of Research and Dissertations implement the procedures for conducting graduate research and the standards for scholarly writing at the doctoral level.
Throughout the doctoral journey, you will have the opportunity to collaborate with other doctoral students as well as faculty and staff during two or three five-day residencies. These residencies offer the opportunity to meet and collaborate with faculty members, other doctoral learners and the doctoral graduation team. In addition to intensive seminars, residencies allow you to gain experience presenting on your dissertation topic, as well as learning from the presentations of your colleagues.
If you need additional focus and coaching, the Dissertation Intensive Writing Retreat is designed to assist you in continuing the development or revision of your prospectus, proposal (chapters 1 to 3) or final dissertation. Those advised to attend are dissertation learners who want to develop a first draft or a major revision of their prospectus, proposal or dissertation with a focus on writing, research, analysis and quality. Please note, while the chair and committee provide academic guidance to doctoral candidates, it is not their role to co-author a dissertation or tell the student how to conduct or interpret research.