RN to BSN Tuition Reduction
Now $340 per Credit
GCU just lowered the price of our RN to BSN program by 30% to help make college more affordable.
Earn Your RN to BSN Degree in 14 Months¹
If you are a registered nurse (RN) with an associate degree or diploma certificate in nursing, Grand Canyon University's (GCU) Bachelor of Science in Nursing (RN to BSN) online program can prepare you for expanding professional roles in the healthcare system of tomorrow.2
Get your RN-BSN
Complete RN to BSN core coursework in 14 months.1
5-week classes
With most classes being five weeks long, this helps you accelerate your degree completion.
90 credits transfer
Our complimentary, unofficial Lopes Credit Evaluation service will help you estimate your GCU transfer credits.3
Obtaining your Bachelor of Science in Nursing can position you to broaden your understanding of best practices in nursing, prepare you for graduate study and equip you for leadership positions in which increasing levels of education are expected.
GCU's RN to BSN program is tailored to meet the needs of the RN adult learner and to maximize the strengths that the working RN already possesses. Our university counselors provide an upfront time to completion, as long as you follow the schedule provided, and our net price calculator tools provide you with a general estimation of the cost of attendance.
Gain Valuable Experience for Your Bachelor of Science in Nursing
In your BSN courses, you will receive instruction from practicing nurses in the field who will share their knowledge and experience in the areas of clinical patient care, healthcare management, professional development in nursing practice and leadership. You can gain valuable experience through hands-on and academic course curriculum that can be directly applied to a nursing job post-graduation.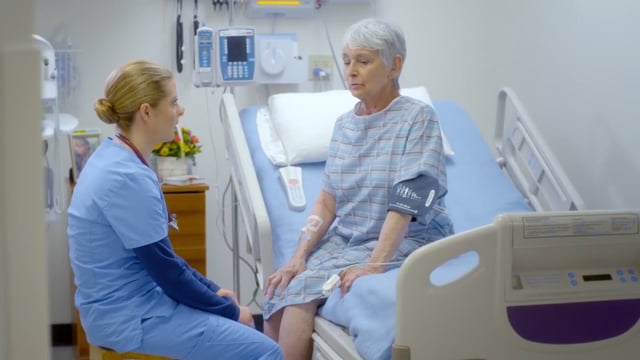 Why Earn Your RN to BSN Online at GCU?²
Career Paths with a BSN Degree
Nurses with a BSN may apply their advanced knowledge and skills to position themselves for possible career advancement, a variety of workplace options and the chance to grow and develop in a field they may find rewarding. This degree may be valuable for those seeking:
Job Opportunities: According to a recent survey by the American Association of Colleges of Nursing, 77.4% of employers express a strong preference for BSN program graduates, while 40.6% of hospitals and other healthcare settings are requiring new hires to have a bachelor's degree in nursing.4
Career Advancement: The knowledge that you can gain in this program can prepare you for various jobs in the healthcare field. More and more clinical nursing positions require a BSN degree. Get ahead of the curve while opening doors to opportunities in nursing.
Workplace Options: Depending on your area of interest, you may be prepared to work in hospitals, ambulatory care centers, health service organizations or rehabilitative settings. Ultimately, what you are taught in an RN to BSN degree program can help you position yourself to pursue a career you are passionate about.
Accreditation
GCU is fully accredited from the Higher Learning Commission (HLC). For more information on the accreditation of nursing programs and other university approvals, please visit our Nursing Accreditation and Regulations page.
RN to BSN Degree Frequently Asked Questions
If you're hoping to set yourself up for potential advancement in the nursing field by earning your BSN degree, read through some frequently asked questions to learn more about the RN-BSN program.
Most of the core courses are five weeks in length. The RN to BSN core courses can be completed in 14 months. Students that transfer in the maximum of 90 credits, including six upper division, may be able to complete the core courses in as little as 12 months.1
The clinical and healthcare principles you will be taught in a BSN program include:
Health promotion for the family, wellness education and cultural diversity
Physical assessment across the lifespan
Concepts of statistical analysis for healthcare including experimental design and sampling methods
Critical appraisal of the research literature and application of evidence in nursing practice
Nursing leadership and management, effective communication and interdisciplinary collaboration
GCU's RN to BSN degree program is designed to allow you to continue working as a nurse while you are enrolled in the online or evening program.2 This way, you can further your education without sacrificing your career.
If you have a busy work schedule, enrolling in an RN to BSN online program may be a great option for you.2 GCU's online programs are convenient and flexible, while helping you receive an education to help you meet your goals.
Students enrolled in the RN-BSN program at GCU receive exposure to community and public health content in their Concepts in Community and Public Health course and have an opportunity to apply their learning by way of a community teaching project. Students seeking public health nurse certification in the state of California (CA) have the option to enroll in an additional course that meets the requirements of CA certification. Students are encouraged to contact their individual boards of nursing to obtain specific information regarding additional content and clinical requirements to obtain community/public health certification in their state.
This degree can prepare students for a variety of career paths in nursing. Graduates can take their knowledge and skills beyond the bedside. Graduates may also have the opportunity to transition into leadership positions within the healthcare system. The critical thinking skills, knowledge of evidence-based practices and exposure to research principles gained in this program are valuable and applicable in many nursing roles.
A BSN can also be a gateway degree to potentially gaining entry to other healthcare careers that are not necessarily patient-care-focused. For instance, after earning your BSN, you may be eligible for entry into an MSN with a public health emphasis program, where you can shift your focus toward public health and community health advocacy.
Other options for those with a BSN may be to go on to explore careers in nursing education or informatics. Earning an MSN degree may be helpful to pursue these career paths.
This type of BSN program is designed to challenge you to apply what you're being taught to what you already know and actively experience as a nursing professional. One challenging aspect of these programs can be juggling your work, studies and personal life. If you find yourself struggling in an RN to BSN program, it's important to communicate your concerns to your student services counselor or other academic advisor and establish a plan of how you can get back on track. Visit the Academic and Career Excellence Centers and review all the resources available to help you succeed.
If you're looking to position yourself for possible advancement in the healthcare field by earning a Bachelor of Science in Nursing degree, fill out the form on this page to get in contact with a university counselor.
General Education Requirements:
Major:
Open Elective Credits:
Total Degree Requirements:
Core Courses
Course Description
This course is a bridge course for the RN who is returning to formal education for the baccalaureate degree in nursing. The course focuses on differentiated nursing practice competencies, nursing conceptual models, professional accountability, integrating spirituality into practice, group dynamics, and critical thinking. The course also emphasizes writing and oral presentation skills.
Course Description
This course focuses on family theories, health promotion models, cultural diversity, and teaching learning principles. The course emphasizes the family as the client, family FHP health assessments, screenings across the lifespan, communication, community resources, and family education. Appropriate health promotion education is evaluated against evidence-based research and practice.
Course Description
This course focuses on methods of health history taking, physical examination skills, documentation, and health promotion strategies. The course emphasizes the individual as the client, health patterns across the life span, community resources, and the teaching-learning process.
Course Description
This course focuses on the community as a large system of people of varying cultures, spiritual values, geographic norms, and economic conditions, all influenced by social-legal-political variables that impact individual and community health. Particular attention is paid to vulnerable subgroups in the community. Emphasis is placed on critical analysis, using epidemiological data and functional health pattern assessments to plan and intervene in areas of health promotion and disease prevention. Students are required to document 25 indirect clinical practice hours in association with this course.
Course Description
This is an introductory course on concepts of statistics, emphasizing applications to health care professions. The course is designed to prepare learners to understand concepts of statistics and the appropriateness of statistical methods used in published research papers and a variety of settings. Areas of emphasis include an introduction to the statistical analysis concepts of variable/reliability factors; P values; experimental design; descriptive statistics, including mean, median, and mode; sampling methods; and power analysis.
Course Description
This writing-intensive course promotes the use of research findings as a basis for improving clinical practice. Quantitative and qualitative research methodologies are presented. Emphasis is on the critical review of research studies and their applications to clinical practice. An overview of evidence-based practice is provided. Prerequisite: HLT-362V.
Course Description
This course introduces a Christian foundation for spiritual assessment and care with specific emphasis on biomedical ethical principles and ethical decision-making within health care. Students practice assessment and propose holistic interventions that take into account the dignity of the human person. These assessments and interventions contribute to the physical and spiritual well-being of individuals across the life span and the health-illness continuum.
Course Description
Registered nurses with current licensure have a basic understanding of the role of the professional nurse. This course emphasizes further development of the professional nurse role. Critical management and leadership values, styles, and skills are a major focus. Particular attention is given to the identification of personal leadership styles and values. Importance is placed on development of effective management and leadership skills, with emphasis on effective communication.
Course Description
This course is designed to enhance the working RN's existing understanding of the pathophysiological processes of disease as they affect clients across the lifespan. The interrelationship of structural and functional reactions of cells and tissues to genetic alterations and injurious agents provide the foundation for comprehending clinical manifestations and treatment protocols. Critical thinking and nursing management are enhanced through the use of case studies that integrate nutritional and pharmacological concepts. The understanding of environmental and biological risk factors provides the nurse with the knowledge to provide health promotion and prevention education.
Course Description
This course explores the impact of numerous professional and societal forces on health care policy and practice. Content includes an analysis of current studies; nursing care policy and position statements; political, environmental, and cultural issues; and changing nursing roles. The study of these issues examines the impact on health care delivery systems in today's society.
Course Description
This is a writing-intensive course. The course combines scholarly activities with clinical practice experiences designed to synthesize learning into the practice environment and impact health outcomes. Learners participate in planned, clinical experiences that refine professional competencies at the baccalaureate level and enable learners to integrate new knowledge and higher level skills to advance nursing practice. Clinical practice hours will be dedicated to learning objectives in leadership and in community health. The professional capstone project offers learners the opportunity to propose a resolution to an issue or problem significant to nursing practice within a clinical environment. Learners identify, design, and propose an evidence-based solution within a health care organization with guidance from faculty and a preceptor in the field. The proposal must reflect synthesis and integration of course content and professional practice. Development of the capstone project is guided by the baccalaureate program learner learning outcomes. Clinical hours: 100. Combined ; 50 hours in leadership and 50 hours in community health. Prerequisites: NRS-430V, NRS-429VN, NRS-434VN, NRS-428VN, HLT-362V, NRS-433V, PHI-413V, NRS-451VN, NRS-410V, and NRS-440VN.

Pursue a next-generation education with an online degree from Grand Canyon University. Earn your degree with convenience and flexibility with online courses that let you study anytime, anywhere.

Grand Canyon University's evening programs cater to the demands of working professionals who prefer an in-person learning environment. Our night classes meet just once per week and offer the interaction and discussion of a typical college classroom.
* Please note that this list may contain programs and courses not presently offered, as availability may vary depending on class size, enrollment and other contributing factors. If you are interested in a program or course listed herein please first contact your University Counselor for the most current information regarding availability.
* Please refer to the Academic Catalog for more information. Programs or courses subject to change.