The Best College Movie According to Each U.S. State
Whether it's a blonde socialite enrolling at Harvard University for a law degree or a dog named Max getting the college experience alongside his dad — college movies can remind us of the ups and downs of earning a diploma.
Prepare for life away from home by binge-watching college films and living vicariously through the actors' and actresses' fictional and real-life experiences on the big screen. With so many movies to choose from, Grand Canyon University (GCU) wanted to discover the top college movies in every U.S. state.
From the 1997 hit "Good Will Hunting" to "The Social Network," education plays a huge role in Hollywood films. Find out which college movies are worth the watch!1, 2
Methodology
In order to discover the most classic college movies in every U.S. state, we at GCU, and our partner Grand Canyon Education (GCE), first compiled 24 film titles from lists of most popular college movies, using the following sources: Town & Country, USA Today and University of the People.3, 4, 5 Next, we selected films that focused specifically on academics and extracurriculars, and omitted those that over-exaggerated social aspects in order to capture movies with a realistic depiction of college life. Next, we searched Google Trends data from the past five years to determine the popularity of each college movie.
The Most Popular Classic College Movie in Every U.S. State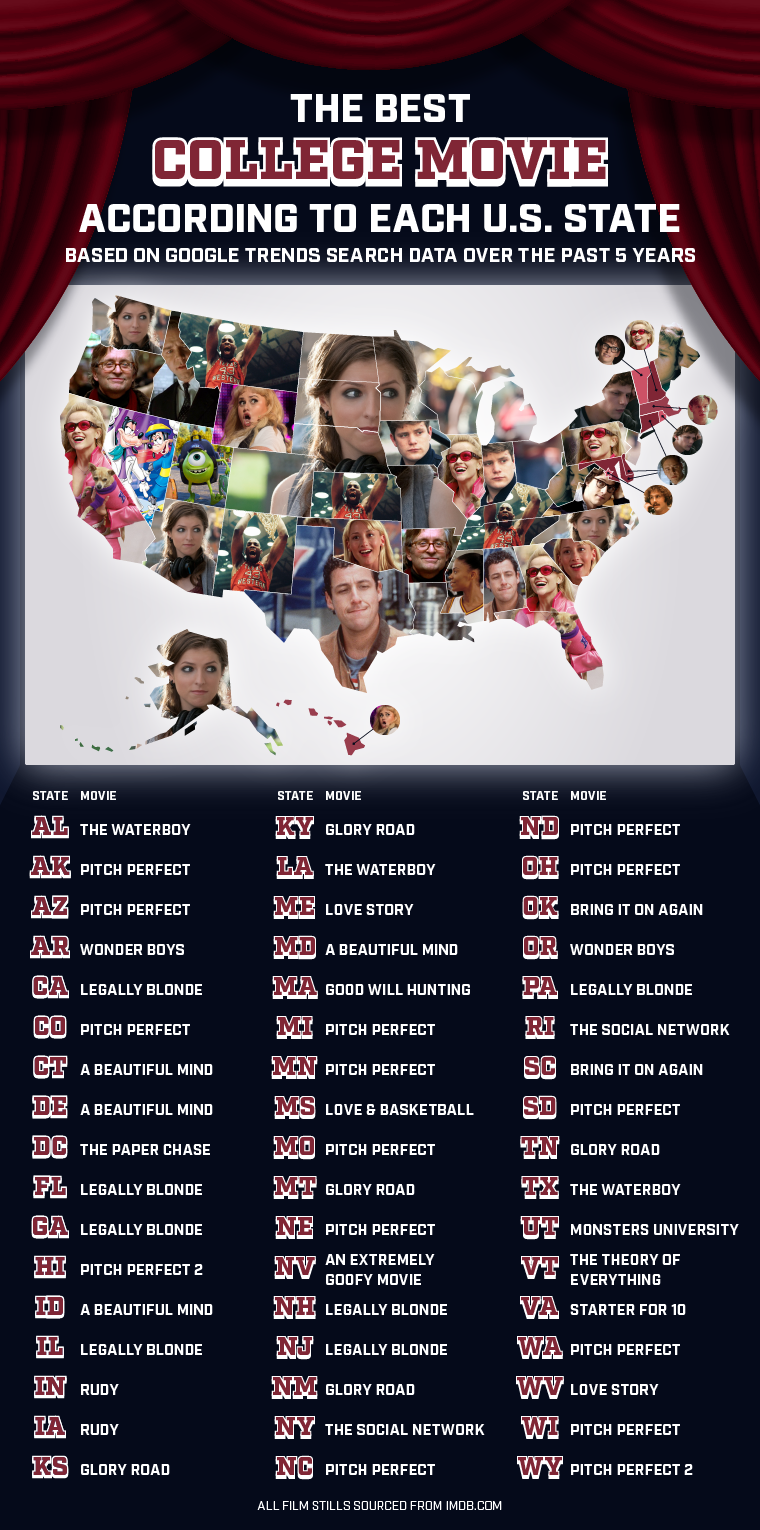 "Pitch Perfect" stole the show as one of the best college movies, as it ranked number one in 26% of the country.6 The film was adapted from a nonfiction book that was based on Varsity Vocals, a group that hosts nationwide a cappella singing competitions for those in high school and college.7
Similar to sororities and fraternities, these a cappella groups are known to have secret initiations, rich histories and deep friendships, which could be one reason why college students are drawn to this film.
Some movies about college life just make you laugh, and "Legally Blonde" is no exception.8 This was the second most popular film, triumphing in places like Florida and Illinois. The college movie classic stars Elle Woods, who transforms from a clueless student into a self-assured graduate, a journey most college students can identify with.
It is no surprise that "A Beautiful Mind" landed at the top in four states, including Maryland.9 The film focuses on mathematician John Nash, a graduate of Princeton University, who invented a uniquely selfless concept called the "Nash Equilibrium," that is widely used in game theory today, where the outcome of a participant's choice of action depends critically on the actions of other participants.
People in Maryland are some of the most philanthropic residents, named second most charitable state by WalletHub, which may be one reason why this message resonates with the people of Maryland.10
"Good Will Hunting" found favor as one of the best college movies in Massachusetts, which makes sense, as MIT (the college featured in the film) is located in Cambridge, Massachusetts. You can even visit the famous park bench featured in the iconic scene between Robin Williams and Matt Damon.11
The Most Popular Classic College Movie in Every U.S. Region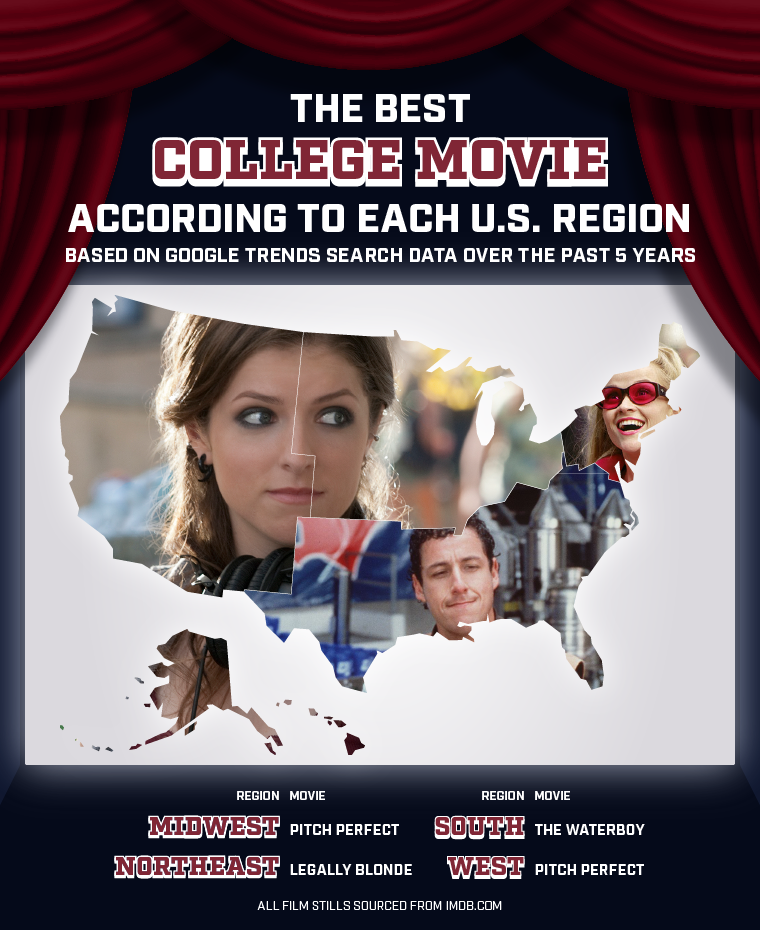 "Pitch Perfect" claimed territory in both the Midwest and West. The film showcases cliques and conflict between groups, which could especially resonate with millennials who struggled to get along with roommates and others during their time on campus. Many millennials are flocking to the Western region states like Colorado and Washington, which could explain why their residents are drawn to this top college movie.12
"Legally Blonde" triumphed in the Northeast as the majority of the film was captured on Harvard's campus, located in Massachusetts.8 Northeastern states, such as New Jersey and Pennsylvania, are home to some of the most lawyers per 10,000 residents,13 which is why this college movie may provide some much-needed comic relief for law students when prepping for the stressful bar exam.
Adam Sandler and Kathy Bates star in "The Waterboy," a comedy about a momma's boy who discovers he has a talent to tackle, landing him a spot on the college football team.14 Not only was Waterboy filmed in Florida but this classic movie may have earned the attention of Southern movie watchers who tend to take their college football seriously. Places like Alabama, Louisiana and Texas gross millions in football program revenue alone, which could explain their interest in this college movie.15
The Most Popular Classic College Movie Overall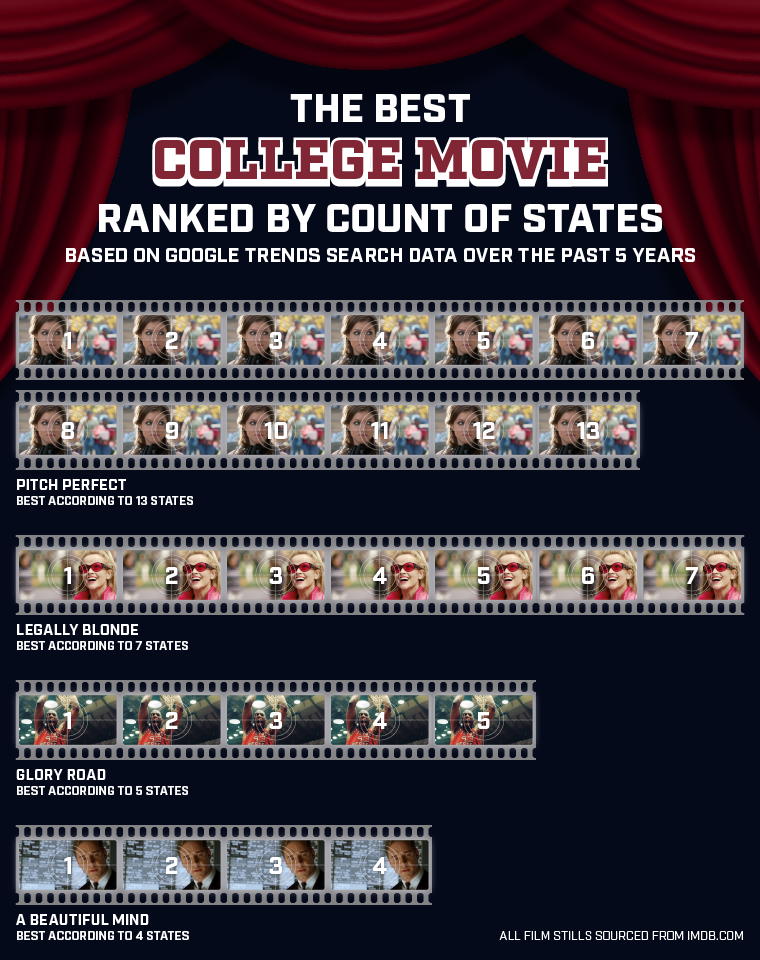 Science informs us that rewatching your favorite movie can soothe anxiety and provide comfort on a primal level,16 which is good news for movie lovers going away to college for the first time.
Thirteen states gravitated toward "Pitch Perfect," which is one of the top college movies in places like Ohio and North Carolina. The film stars Beca Mitchell, who wants to move to California to start her music career, but her parents convince her to try out college first. Students in Ohio and North Carolina are most likely to go to school in-state and follow in Beca's footsteps, perhaps providing one reason for this connection.17
Coming-of-age movies about college life tend to be popular and include big box office hits like "Legally Blonde" which came in second. Having high search interest in places like Florida, Georgia and New Hampshire, this film was the most popular in seven states across the country.
Tackling themes of teamwork, discrimination and perseverance, "Glory Road" is one of the top college movies based on the true story of the first team with an all-Black starting lineup to ever win the 1966 NCAA University Division Basketball Tournament.18
This film was popular in five states, including Kentucky and Tennessee. These Southern states remained a civil rights focal point in the 1950s and 1960s, and today Louisville is home to many museums that preserve African American history and could explain residents' interests in the film.19
Closing Thoughts
College movies can depict some of the challenges of making new friends or getting to class on time, but in real life, all those drawbacks fade away when you're standing on stage holding your diploma.
Follow in the footsteps of some of your favorite on-screen stars like Beca in "Pitch Perfect" and obtain a BA in Music Performance Degree or pursue a Legal Studies Degree like Elle Woods in "Legally Blonde." Good with technology? Discover a new framework like John Nash with a STEM Degree. No matter which degree or program you choose, GCU wants to help you thrive in school so that you can succeed in the workforce just like your favorite college movie stars do on the big screen.
Retrieved from:
1 Hunting, Van Sant, G. (1997). Good Will Hunting. Miramax.
2 Network, Fincher, D. (2010). The Social Network. Columbia Pictures.
3 Country, A Definitive List of the Best College Movies in July 2022. 
4 Today, 10 Classic College Flicks to Watch Before You Graduate in July 2022.
5 University of the People, 20 Must See Movies About College Life in July 2022.
6 Moore, J. (2012). Pitch Perfect. Universal Pictures.
7 Varsity Vocals, We are Pitch Perfect and Sing It On in July 2022.
8 Blonde, Luketic, R. (2001). Legally Blonde. Metro-Goldwyn-Mayer Distributing Corporation (MGM).
9 Mind, Howard, R. (2001). A Beautiful Mind. Universal Pictures.
10 WalletHub, Most Charitable States in 2022 in July 2022.
11 Live the Movies, The Boston Public Garden Bench From "Good Will Hunting" in July 2022.
12 Smartasset, Where Millennials Are Moving - 2021 Edition in July 2022.
13 The Last Gen X American, Lawyers Per Capita By State in July 2022.
14 Waterboy, Coraci, F. (1998). The Waterboy. Touchstone Pictures.
15 Go Banking Rates, Michigan, Alabama, and 23 More of the Most Expensive College Football Programs in July 2022.
16 Health24, The Psychology Behind Why You Like to Rewatch Your Favourite Movie or Series During the Pandemic in July 2022.
17 Hire a Helper, 2021 Study: Which College & Universities Do Freshmen Travel Farthest For? in July 2022.
18 Road, Gartner, J. (2006). Glory Road. Buena Vista Pictures.
19 Kentucky Center for African American Heritage, About the Kentucky Center for African American Heritage (KCAAH) in July 2022.
Approved by the Executive Director of Communications and Public Relations on Aug. 18, 2022.
The views and opinions expressed in this article are those of the author's and do not necessarily reflect the official policy or position of Grand Canyon University. Any sources cited were accurate as of the publish date.