Alumni Spotlight: Josh McGuire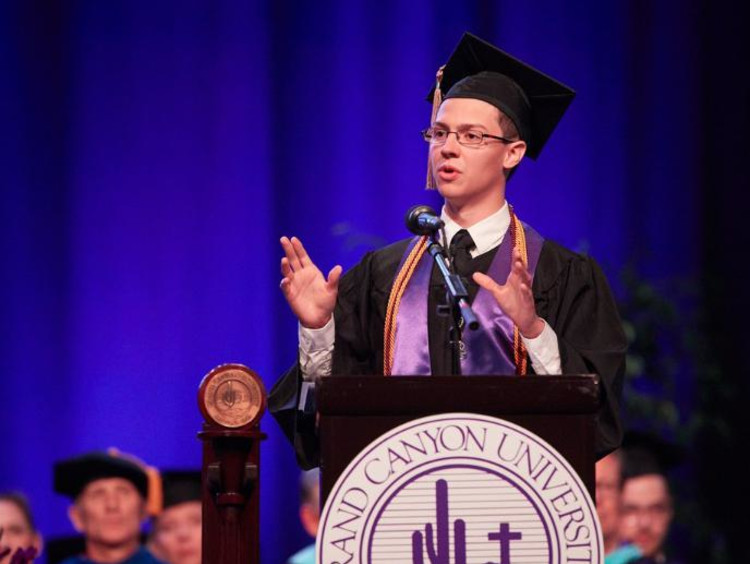 Colangelo College of Business and Honors College alum Josh McGuire graduated recently with a Bachelor of Science in Finance and Economics. Over the course of his career at Grand Canyon University, this outstanding achiever wore many different hats:
Student Leader
Josh has been a familiar face in many spheres of GCU. He served as president and treasurer of creative writing club Friends of the Pen, where he first met his wife. Josh was also the competition director for the Accounting Society, which aims to help students grow in professionalism through networking and securing internships and job offers. Josh also applied the skills he learned in the classroom as the Director of Finance for GCU's student-run TEDx event. He spent over two years on the ASGCU team, serving as a senator and club advocate before his graduation.
Canyon Challenge Veteran
During his time at GCU, Josh was involved in not only the IDEA Club (Innovation, Development & Entrepreneurship Association) but the club's annual entrepreneurial competition, the Canyon Challenge, which offers students cash prizes and the opportunity to receive start-up capital from an investor.
In the 2018 Canyon Challenge, Josh and his team presented Prophet Insight, which provides location-based data analysis for small and medium-size businesses with the use of artificial intelligence. Prophet Insight aims to give smaller companies access to what is available to larger businesses — information like census data, traffic patterns, car access, energy consumption and wealth levels — all of which is essential in optimizing their location. By "democratizing big data," Prophet Insight aims to give smaller businesses a more competitive edge in the marketplace
Just the year before, Josh's group won the International Competition in Barcelona and Canyon Challenge with Storage Together, which the team has dubbed the Airbnb of self-storage, connecting people who need space to store possessions with those who have space available to rent out. Previously placing in the top five in the Arizona Collegiate Venture Competition and winning the Phoenix Smart City Hack, Josh and the Storage Together team were elated to receive overwhelming support in the form of a unanimous vote from the five Canyon Challenge judges, taking home a $6,000 prize to help them continue to strengthen their business.
Graduate
After fully experiencing his time at GCU, Josh was honored as Outstanding Graduate in the Colangelo College of Business and had the opportunity to speak at commencement. As Josh continues to thrive in the world of business, GCU and CCOB wish him the best of luck in all his endeavors!
GCU provides a business education that is rich in servant leadership lessons. If you are interested in learning more, visit our website or get answers to your questions by clicking on the green Request More Information button on this page.