Canyon Business Club: Preparing You for the Real World
By Shannon Walker
President of the Canyon Business Club, Colangelo College of Business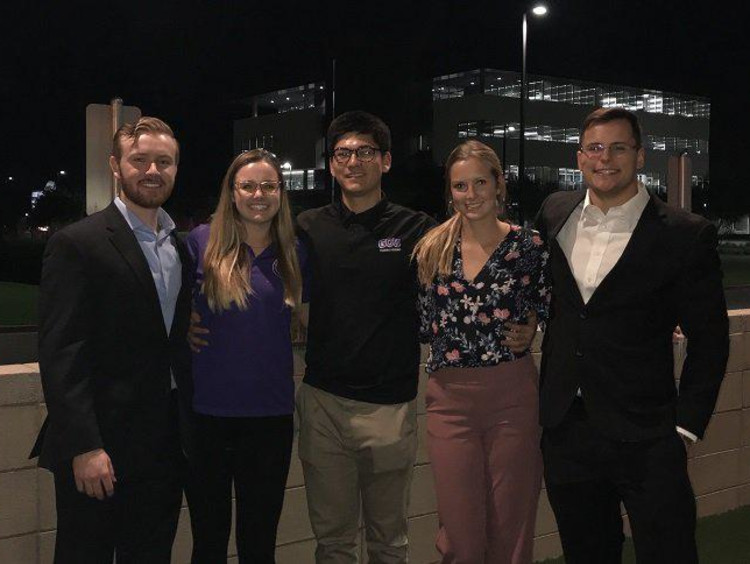 As many business students know, being a "business major" is a very broad field of study. Unlike other majors such as nursing, pre-med or education, there isn't a clear or direct career path that will lead you to a specific job. While this can be a liberating feeling, it can also be overwhelming. But what can help, is knowing that you're not alone. Canyon Business Club is a network of driven business students that are going through it all together.
CBC was established in 2014 with one goal in mind—to prepare business students for the real world. In past years, CBC has focused on bringing in outside business professionals to speak with students about their experience and give their personal business advice. By listening to these speakers, students gained knowledge about different industries that they may not have known about before.
While the original goal still holds true, the club has revamped their plans by creating new partnerships, organizing special events and providing additional learning opportunities. These changes have been brought about by the club's leadership team:
President: Shannon Walker
Vice President: Conner Teich
Secretary: Tatum Kubes
Treasurer: Evan Peterson
Marketing Director: Zack Covert
Although most of the team is new to CBC leadership, they have worked together to successfully run Canyon Business Club. When asked about the transition, President, Shannon Walker, states that "going into this year, my team and I did not know what to expect, but we knew that we wanted to create value for students through our events." The club has done so by planning two high-quality events per semester as well as partnering with other CCOB clubs to promote other opportunities for service and learning.
Off to a Great Start
The club recently hosted their first-ever social event on October 18 at Canyon 49. The event was a success as members gathered to eat, play games and network. The night started with time to socialize and continued with rounds of Business Bingo, corn hole and giant Jenga.
For the second event of the semester, the club hosted a scenario-based workshop on November 28 at 11:15 am. Students acted out real-life scenarios that they may face in the workplace such as: hiring employees, firing employees, sexual harassment, professional interviews, etc. The club invited online faculty to work with students and give feedback as they worked through each scenario.
Canyon Business club has also partnered with Delta Mu Delta International Business Honor Society to hold a Supplies Drive in the Colangelo College of Business. From October 29-November 2, there were collection bins for school supplies, hygiene and cleaning products, clothes and first aid supplies. On November 3, these items were taken to Phoenix Dream Center.
There are many ways to get involved on campus, but Canyon Business Club offers a unique opportunity for students of all majors to prepare themselves for the real world. If you are interested in leadership for Canyon Business Club or would like to learn more about upcoming events, please email CanyonBusinessClub@gmail.com
If you are interested in being a part of our dynamic and encouraging community, Grand Canyon University may be the right choice for you. Visit our website or click the Request More Information button on this page to get started on the journey to find your purpose!