GCU Student Testimonial: Lectric Longboards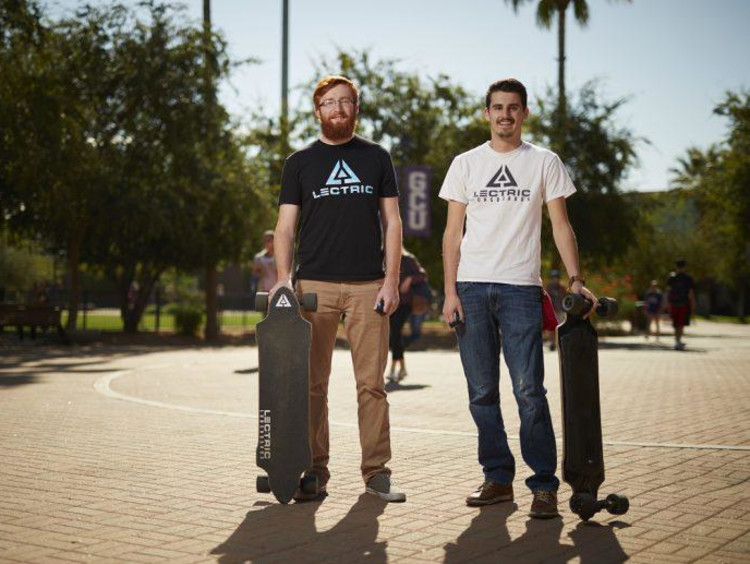 Nathan and Levi, business students at Grand Canyon University's Colangelo College of Business, are putting their skills into practice with their electric longboard company, Lectric Longboards. This company puts motors on longboards, making them faster and better for getting around campus.
They took what was once a hobby and made it into a business venture, and the team is now closing in on almost a million in sales.
They credit a lot of their success to the Colangelo College of Business, saying that they staff "does everything they can to help you be successful."  They go on to say that you can really bring your ideas to life with the resources provided on campus. The school does all they can to help students learn and be successful in the real world.
The pair was also given the opportunity to go to the Lopes Lab and use the 3D printing technology to create and prototype their boards. In addition, the college gave the team a space to distribute and package their boards, giving them a head start in their business venture.
They speak very highly of their degree program at GCU saying, "They don't just want you to graduate with a degree, they want you to graduate with a full resume." They came to GCU and found their purpose through figuring out what they loved to do.
If you want to watch the full video, check it out below:
If you are interested in Grand Canyon University and getting your ideas off the ground, Visit our website or click the Request More Information button on this page to get started on the journey to find your purpose!
Written by Allison Richmond, a professional writing major at GCU.