How to Survive College Life in the Colangelo College of Business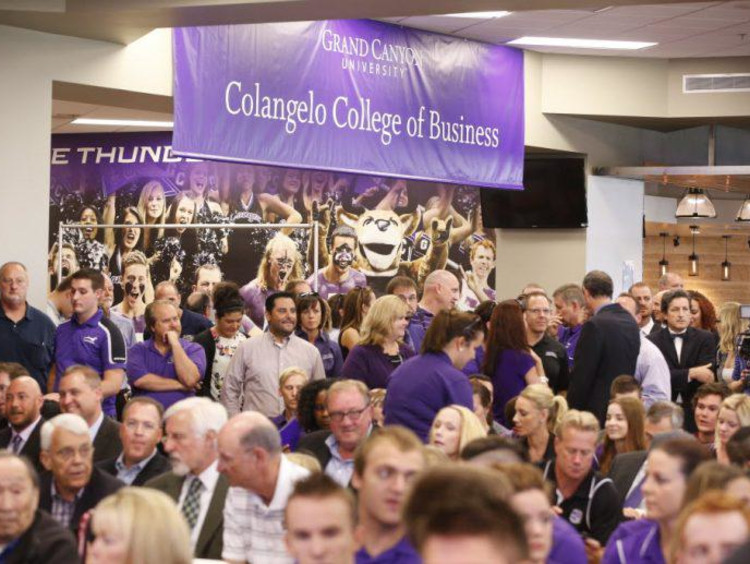 Whether you are an incoming freshman, a transfer student or a current student needing advice on how to survive college life at the Colangelo College of Business, we have some tips for you! Read more to gain some helpful suggestions on how to study business at Grand Canyon University.
Be Present in Classes
When studying at one of the top Christian business schools in Arizona, it is important to be present during every class period. It is not enough to just attend every class period, but you must also be actively engaged to make the most out of your lectures, group projects and class discussions.
If you show up each class, but spend your time daydreaming, you will not retain any of the information being taught, and your grade will ultimately reflect your actions. Alternatively, if you attend every class and actively participate, you will maximize your knowledge, and you will not cheat yourself out of a valuable learning experience.
Interact with Teachers and Peers
Part of being present in class is interacting with teachers and peers. This is essential to your success as a business student. If you have questions on a certain topic or assignment, do not be afraid to raise your hand and ask your instructor. Chances are, someone has the same exact question as you.
In addition, if you feel like you could use a study partner to prepare for tests and projects, do not be hesitant to exchange emails with your peers and set up study sessions after class. When you interact with your teachers and peers, you gain an added bonus of building strong teamwork and communication skills, which are extremely valuable traits that employers look for in business professionals.
Balance Your Schedule
A balanced schedule is key to knowing how to survive college life as a business student. Keeping a planner or calendar of events and assignments, is a great way to stay organized and not get over booked.
It is important to prioritize school over extracurricular activities, but it is also important to make time for yourself and do things that you enjoy. If you keep a balanced schedule and coordinate your days according to important due dates, then you will reduce the stress of forgetting assignments or pulling all-nighters due to procrastination and lack of planning.
Give 110%
As a business student, whether you are earning a BS in marketing, a BS in business management or a BS in accounting, it is necessary to give 110% in everything you do.
For each assignment, read the requirements, review the rubric and add professional finishing touches. For every test, reread your notes, make flashcards and study with friends. And for every group project, assign individual roles, set up meetings and rehearse your presentation. Your grades and diploma will thank you for giving your all in every aspect of your learning experience!
Want to learn more about business degrees at GCU? Visit our website or contact us today to learn more about our business programs at Grand Canyon University!