SF Giants Share Their Love of God with Fans
By Christina Loren Richey, MA
Alumna, College of Theology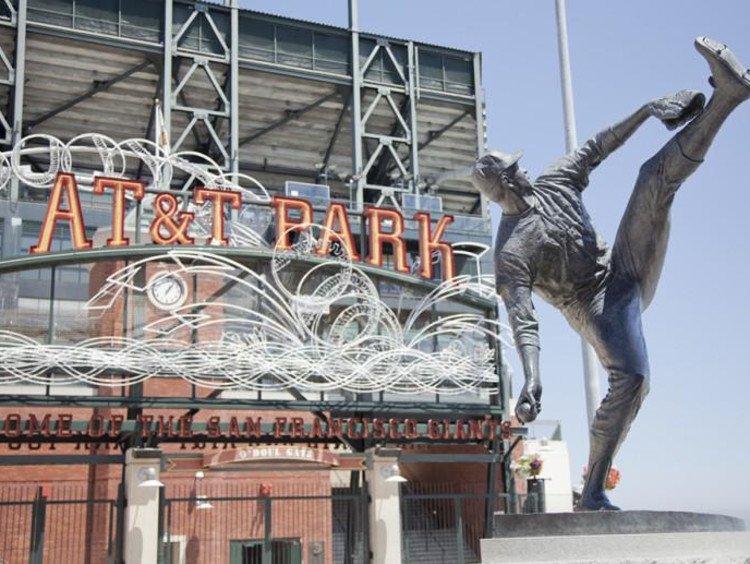 More than 7,000 fans flooded the field at AT&T Park after the Giants suffered a tough loss to the St. Louis Cardinals on Saturday, Aug. 29. Even though their team did not win, spirits remained high amongst Giants enthusiasts who were more interested in hearing their heroes offer testimonies of faith, rather than how the team played on Fellowship Day.
Giants players Santiago Casilla, Ryan Vogelsong, Hunter Strickland, Jeremy Affeldt, Justin Maxwell and Kelby Tomlinson, along with General Manager Bobby Evans, shared how their faith in God has played a meaningful role in their personal and professional lives.
Pitcher Santiago Casilla from the Dominican Republic spoke to fans with the help of a translator and explained the important role that the word of God plays in all of our lives. Casilla quoted Jesus directly from the Bible, "'If you abide in my word, you are truly my disciples, and you will know the truth, and the truth will set you free'" (John 8:31-32).
For Casilla, his role as a baseball player comes second to his role as a Christ follower. Casilla said, "I need to have His word in my heart everywhere I go."
Relief pitcher Jeremy Affeldt is currently on the disabled list due to a knee injury and he made it clear that although his condition makes him frustrated and mad sometimes, it has only strengthened his trust in God.
Affeldt said, "No one said that being a Christian was going to be easy. No one said that if you become a Christian, all of your problems are going to go away. I read something the other day that was really important to me, and it said when you sit there and look at all of your problems, remember to start worshipping the problem-solver."
Affeldt affirmed that he knows God will bring him through rough situations like this, just like God has in the past, because he truly loves and puts his faith in Him.
Pitcher Ryan Vogelsong talked about how he leaned heavily on his faith after being released from the Phillies in 2010, a low point in his life that left him completely devastated. The uncertain discouragement that he may never play baseball again weighed him down, in addition to serious health issues that his wife's father was going through.
Vogelsong overcame his fears by placing all of his faith in God. Since then, God completely restored his career and made him an All-Star and a World Series champion. Vogelsong said, "God works His ways and got me to pro ball and led me back to Him."
His wife Nicole Vogelsong joined him onstage and shared how God has been key in keeping their marriage and family strong through difficult times.
Each of the team members handled themselves with grace and class as they helped, inspired and encouraged fans by demonstrating how God has transformed them.
Popular Christian singer and songwriter Jeremy Camp also performed for the crowd and shared his moving testimony of how he lost his wife to cancer in his early twenties.
Camp explained that it was God's strength alone that helped him get through the tragic loss.
The San Francisco Giants, in community partnership with the Salvation Army, K-LOVE and Spirit West Coast made Fellowship Day at AT&T Park possible.
Fellowship Day was one of many special events that was hosted at AT&T Park this year. To learn about how you can merge your love of sports with your passion for business and servant leadership, please visit our website.
More about Christina Loren Richey:
Christina Loren Richey is a meteorologist who resides in the Bay Area of California. She received meteorological certification from Mississippi State University, holds a BA in economics from California State University, Chico and recently graduated from Grand Canyon University in June 2015 with an MA in Christian studies.