Spotlight: Dean Randy Gibb's Thoughts on Servant Leadership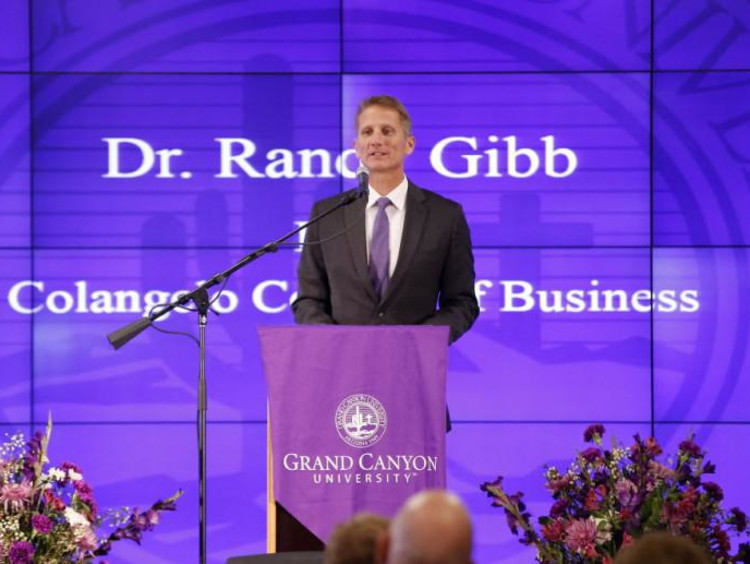 Randy Gibb, PhD, is dean of Grand Canyon University's Colangelo College of Business. As someone who is knowledgeable about all things business, we asked him several questions about servant leadership, which is one of the pillars of GCU's business school.
Who has had a tremendous impact on you as a leader?
My years in the Air Force exposed me to some great leaders.  Three examples:
Nat Millican, a former flying squadron commander, inspired me to become a better leader by caring for my family and me beyond simple "at-work" matters. He truly was a servant leader and steward of the families.
Ed Weichers, my former collegiate boxing coach, modeled servant leadership by showing graciousness to all stakeholders, which in turn resulted in tremendous long-term relationships and partnerships.
Doug Fehrman, another Air Force flying commander, trusted me to such a great extent that it was empowering. This helped to create open communication and inevitably led to total team success.
How do you encourage others in your organization to communicate the "core values" of the company?
Creating the right company culture is a slow process. Talk is cheap, meaning it is one thing to communicate the core values, but another for people to actually live them, be an example of them and embrace them. The leader must be the role model of the core values, and it needs to be embedded into all activities and decisions. Links between minor events and activities need to clearly reflect core values so that over time, the purpose of the organization is clear.
What are the most important qualities of an effective leader?
I have thought about this for a long time. First, I think a leader needs to be him- or herself. Authentic leadership is a great place to start; do not try to be anything other than yourself. Second, the qualities of service, care, love, humility and stewardship are key traits that result in servant leadership. Care and love are traits not used often enough when describing leadership, but are necessary to build a culture of trust and respect.  It is so important to demonstrate that everyone matters. Finally, stewardship and humility comes into play, as a leader is never bigger than the organization and the team itself.  The leader's job is to help move the team forward and improve it while training their replacement.
What are the qualities you look for most in an employee? Why?
I look for commitment to the purpose and team, and for someone to take ownership of the organization's goals. This will lead to more engagement and, in turn, lead to productivity and a healthy culture.
What is the role of effective communication in leadership?
Communication is critical, both from the leader to the team and from the team to the leader in the form of feedback. Effective communication can only be achieved if there is mutual trust and respect.
Grand Canyon University's Colangelo College of Business offers business degrees that focus on servant leadership while addressing the demands of contemporary business environments. To learn more about business degrees available at GCU, visit our website or contact us using the Request More Information form at the top of the page.