Student Spotlight: Vincent Indelicato IV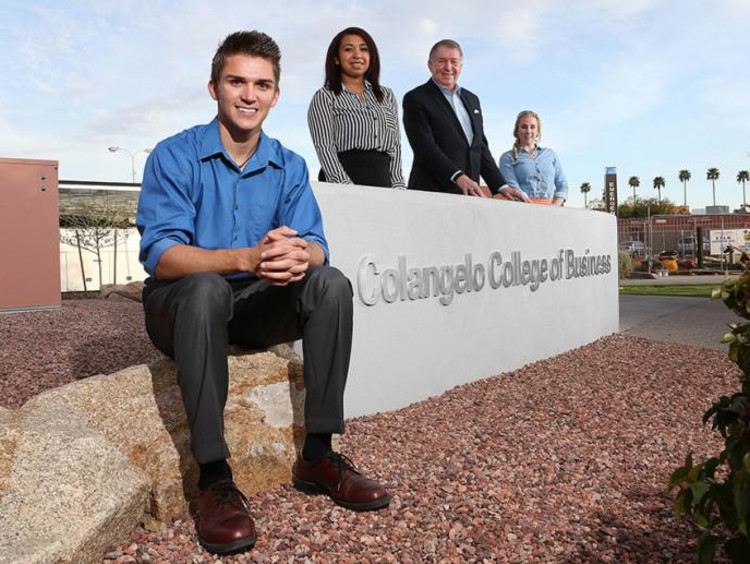 Welcome to our second student spotlight! At Grand Canyon University's Colangelo College of Business, we are committed to putting Lopes first. Get to know Vincent Indelicato IV, a marketing major who is also part of GCU's Honors College. 
Tell us about yourself.
I am a Phoenix native and a graduate of the local Washington High School. I attribute my passion for marketing and business in general to my uncle, Mike Gipson, a lifelong entrepreneur, mentor and friend. Having been blessed with many opportunities in my life that have propelled me towards success, I have taken it upon myself to repay the favor by being a mentor to aspiring businessmen and businesswomen. Whether through assistance in preparing mentees for a job interview or listening to the struggles they face in everyday life, I seek to embody a business leader with integrity, character and compassion.
Why did you choose GCU?
At the start of my senior year of high school, I couldn't point out GCU on a map if my life depended on it. ASU was the university of choice for many seniors at my high school and was naturally my first choice. Then, a GCU admissions representative came to our campus seemingly weekly and encouraged me to consider the unparalleled opportunities at the university. It didn't take long to realize that I could make a name for myself and build my brand from day one of classes. The opportunity to be an inaugural member of the Honors Institute solidified my decision, with the added bonus of receiving a DECA scholarship. Ever since that decision, there have been very few aspects of GCU that I haven't experienced or been involved with in some way.
Now, I am a junior marketing major enrolled as an inaugural member of the Honors College (formerly the Honors Institute). Looking back, each opportunity and new experience that arises is a testament to the fact that I made the correct choice.
What do you enjoy most in the Colangelo College of Business?
Transparency and accessibility of the faculty and administrators in the Colangelo College of Business are two of the most enjoyable characteristics. Knowing that at any given time students have industry experts who are willing and able to provide invaluable knowledge outside of the classroom regarding how to reach professional success is something I have treasured and taken advantage of from day one.
What advice do you have for business students?
Build. Your. Brand. Have a vision of who you want to be in 10 years, five years or by next Easter, and intentionally do something every day that gets you closer to becoming that person. That means seeking out professional and personal allies, learning as much as you can about your major and setting yourself up for success by always being attentive to new opportunities. Let others see your determination to become that eventual brand of you through the passion you have for success.
It took me two years and three changes of my major to realize that my passion is in marketing. Every day, I intentionally work toward being the best person I can be professionally and personally so that I might inspire others to follow suit.
Tell us about your internship at LaneTerralever.
I introduced myself to Randy Gibb, PhD, in the faculty kitchen at the start of his second week as dean of the Colangelo College of Business. For about a month following that meeting, we consistently bumped into each other at various campus events and meetings. He would jokingly say, "Vince! You are everywhere I go!" Through that routine and my involvement in the Colangelo College of Business as an honors student, he and I built a professional alliance that continues to yield tremendous opportunity for me.
At the start of this year, Dr. Gibb reached out to an ally of his at LaneTerralever (the CEO to be exact) and solidified an opportunity for a GCU student to work as a market research and brand strategy intern for the company. Knowing of my passion for marketing, Dr. Gibb encouraged me to apply for the paid internship, which led to me being hired at the second interview.
I currently devote 12 hours a week to the opportunity and am applying concepts learned in the classroom to real-world scenarios on a daily basis. LaneTerralever is as happy to have a GCU intern as I am to begin my journey towards my dream career. This wouldn't have been possible without Dr. Gibb, and I know I am not the only student he has influenced in a tremendous way. I never could have imagined I would be working in my dream field a year ago, but it wouldn't be so if I hadn't taken the initiative to meet Dr. Gibb, or without his passion for serving the next generation of business leaders.
Learn more about the Colangelo College of Business and Dr. Gibb by visiting our website. For more information about GCU, contact us today!