What You Missed at DECA's Club Collab Event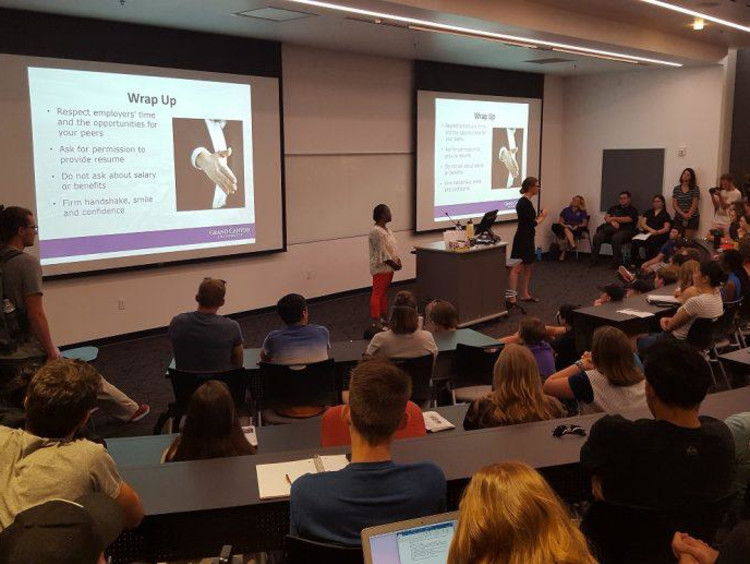 The Academic and Career Excellence Centers (ACE) and Strategic Employer Initiatives and Internships (SEI) partnered with the Colangelo College of Business to help students prepare for career fairs. This workshop was attended by more than 100 students on September 12. Representatives Ann Williams and Aysha Bell spoke on the importance of making a strong first impression when interacting with employers at networking events, job and internship fairs. Williams and Bell also offered students tips on how build a strong resume, interview effectively and utilize the Career Connections tool available to help students find employment opportunities.
If you missed this awesome event, here are three takeaways of the night:
Takeaway 1: The Resume
Resumes are the first impression between a potential employer and employee. It can feel like a daunting task, but do your best to include your values, strengths and personality within your resume. One great resume tip is to slightly tailor your resume to each specific position you apply for. Despite the common misconception that being vague on a resume can earn you any position within the organization, many employers appreciate specific objectives and desired positions.
Takeaway 2: The Interview
Interviews are also an intimidating process, but are a crucial part of getting any sort of job. The best way to calm nerves when interviewing is being confident in yourself and your abilities and understanding that you are interviewing the company just as much as they are interviewing you. Remind yourself of the purpose behind the interview! The employer is already impressed with your skills and accomplishments listed on your resume, and now they want to get to know you better! They are interested in whether you would be a good fit for the position and their business, so just be yourself!
Takeaway 3: The Career Connections Tool
GCU's Career Services has designed a "one-stop career services online tool," according to director Jacqueline Smith. This tool allows users to create professional profiles and manage their career development through resume building, job boards and mock interview modules. All GCU students should take advantage of this resource and watch the impact it has on their journey to discovering their career!
Grand Canyon University can help you start networking through clubs, internships and more! To learn more about our Colangelo College of Business, visit our website or click on the Request More Information button.
Written by Quin Jackson, a marketing major.