Work-Life Balance Stats Among Business Professionals
It seems like every self-help book and morning show guru has been talking about the importance of work-life balance. However, as we schedule pre-conference yoga classes or after-work cocktails, one fact is clear: this harmony is hard.
At Grand Canyon University (GCU), our students and teachers are experts of mastering their schedules to get their degrees, finding ways to fit online learning and night classes into their busy lives. Still, even those who excel at time management find challenges in attaining a work-life balance. For many, remote work has made this balance even harder. So, GCU wanted to take a deep look into the factors contributing to work-life balance and the experiences of those working through the grind. Particularly, we wanted to focus on those in the demanding business field.
We conducted a survey of 600 businesspeople navigating the modern worker's life to get a better understanding of current standards. You can check out our data below to get a sense of shared experiences and see how your own work-life balance fits into trends.
First, we wanted to see how much time business professionals are actually working per week. We found that over half of respondents are working more than 40 hours a week and over 60% of employees work over 5 hours on weekends. These numbers make it perfectly clear that employees aren't just subscribing to a 9-5 work schedule anymore. We know that work might edge out leisure in terms of people's schedules, but we wanted to know what exactly was tipping the scales.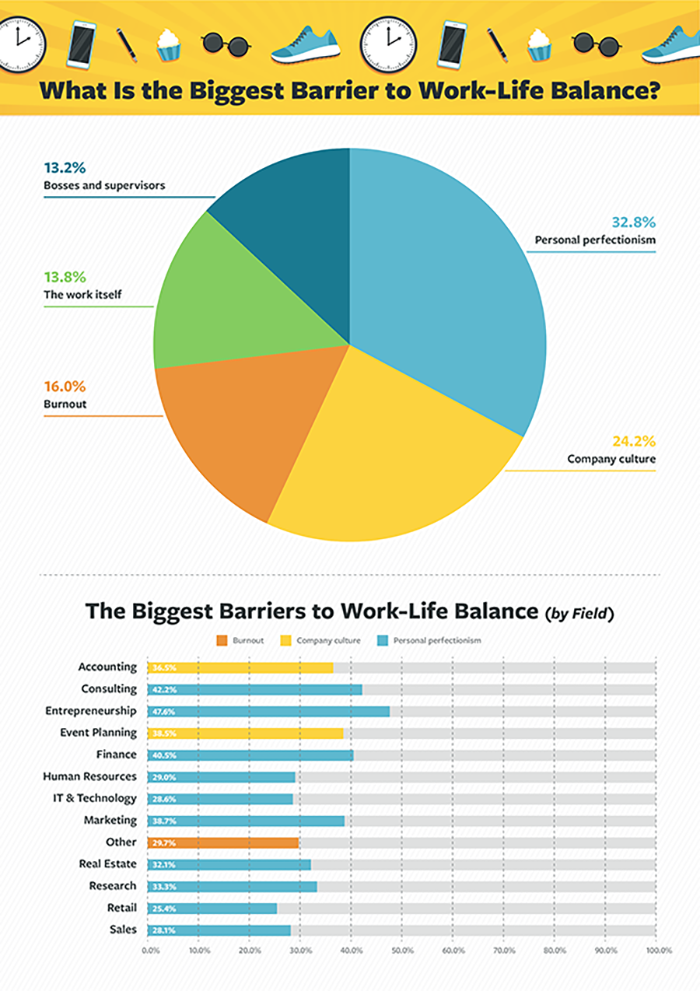 To get a better idea of what barriers to work-life balance require the most attention, we asked respondents which factors precluded them from leisure.
Interestingly, the top three causes of work-life balance were cultural. Around 70% of employees attributed their work-life balance challenges to personal perfectionism, company culture, or burnout. With all these psychological factors limiting work-life balance, and perhaps employee happiness, it would make some sense for workplaces to think deeply about the mental health of their employees. Interestingly, as reported by Forbes in 2018, many employers have yet to provide mental healthcare benefits to their employees. It will be interesting to see how an increased need for work-life balance from employees will reflect better psychological support from employers interested in supporting their teams.
We were also curious about how barriers to work-life balance differed by career. We found that accounting and event planning differed from other fields in that company culture was the top barrier for balance among field employees. Some career paths are naturally more demanding than others, which is important for students to keep in mind when choosing their course of study.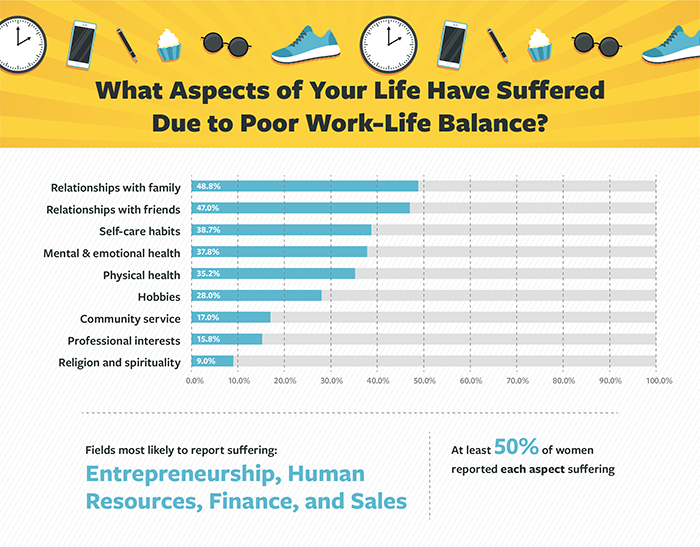 Having understood some of the causes of poor work-life balance, we took a look at some of the negative effects of uneven schedules. Sadly, the top consequence of poor work-life balance was the suffering of family relationships, reported by nearly 50% of respondents. Individuals also cited loss in their relationships with their friends and themselves and gaps in their physical, emotional and spiritual health.
Seventeen percent of individuals who took our survey reported that poor work-life balance took away from their community service efforts, but it seems like companies are starting to offer paid volunteer hours. According to Benefitnews.com, as of 2018, 65% of companies offered paid volunteer hours to employees. Hopefully, employers will get a better sense of their employees' needs and values, and rise to make these values a part of company culture.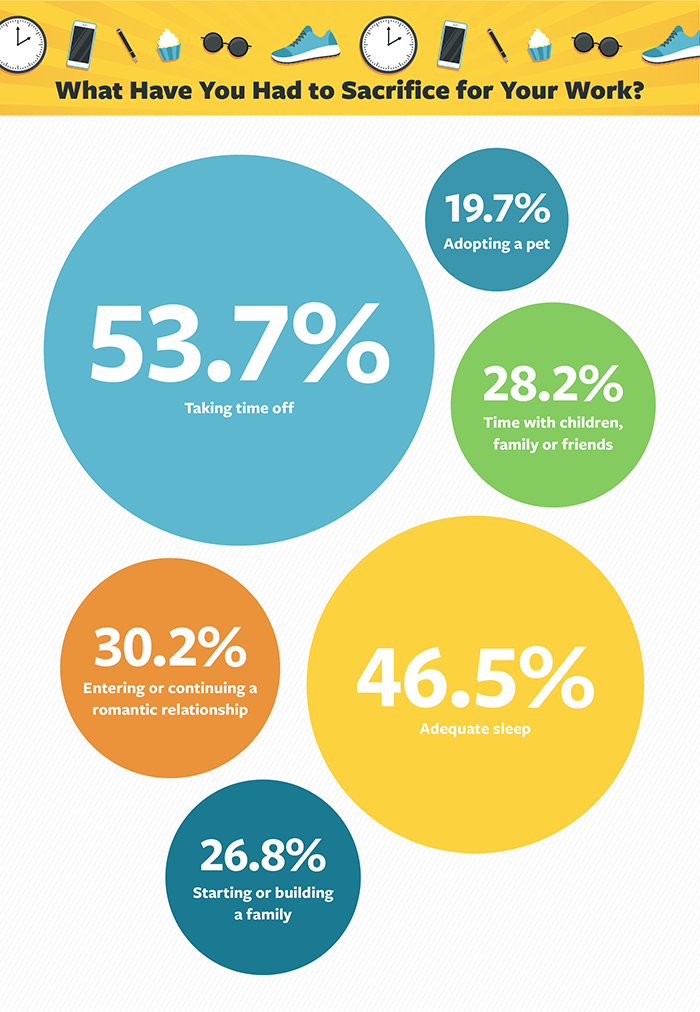 We also looked at the sacrifices employees make for their careers. According to the data, over half of employees sacrificed vacations. However, poor work-life balance had major long-term impacts, too, with respondents sacrificing things like romantic relationships, pet ownership or even starting a family.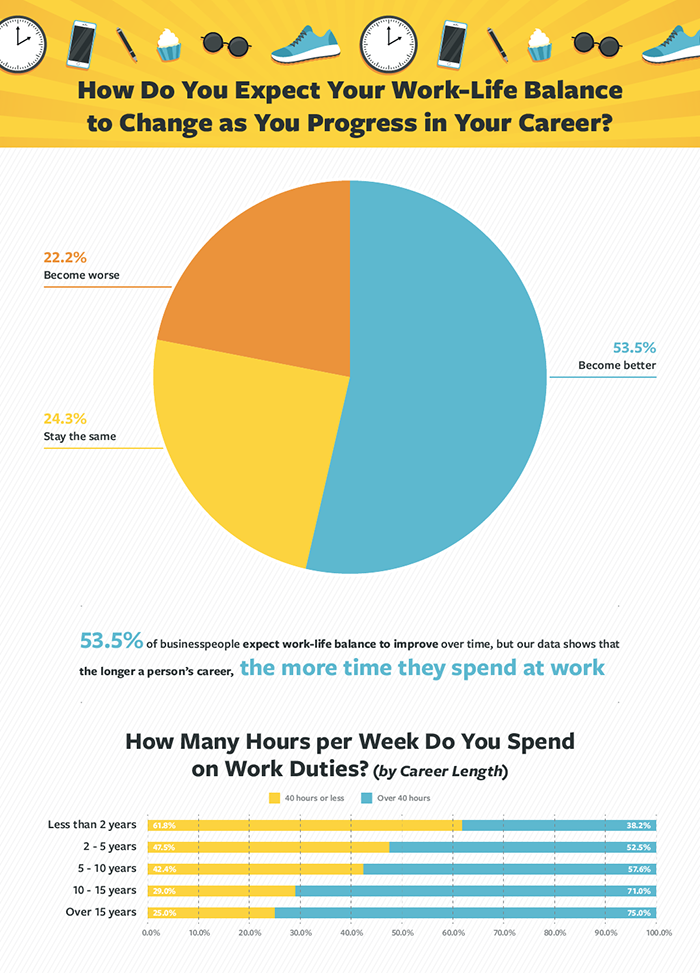 After looking at some of the current experiences of those facing work-life imbalance, we wanted to get a feel of how the future employees' might change. Fortunately, over 50% of employees predicted that their work-life balance would become better. We aren't sure if this optimism is related to personal adjustments to a more balanced schedule or to global movements of self-care spurred by the pandemic, but hopefully, those wishing to invest more time in their personal lives, families and communities will find a better sense of balance in the future.
Unfortunately, we saw that people at further points in their career also do work longer hours, so, perhaps a societal shift is what will be needed to turn these goals of more balanced life into realities.
Finally, we know that for so many individuals, taking the first step to reach your career or personal goals can be difficult. For that reason, we looked at how many individuals have considered and even acted on changes in their careers to achieve a better work-life balance. Forty-eight percent of respondents considered making a change but haven't gone through with it.
While there are lots of reasons to not follow through with a career pivot or even change, earning a degree shouldn't be one of them. GCU works to meet our students at their current position to allow them to pursue their career goals in a feasible and exciting way.
At GCU, we value the opportunity to meet our students' career aspirations while offering them flexible schedules and learning plans so that they don't have to sacrifice too much. In our Colangelo School of Business, students can become business leaders without having to sacrifice time with their loved ones and their community commitments that have fueled their business passion.
The views and opinions expressed in this article are those of the author's and do not necessarily reflect the official policy or position of Grand Canyon University. Any sources cited were accurate as of the publish date.