U.S. Industries Hiring the Most, According to LinkedIn
The job market has seen a massive amount of fluctuation in the past two years, largely due to the pandemic and "The Great Resignation." Currently, the job market is on fire1 –– which bodes well for job seekers and new college graduates, alike. But which industry sectors have the most job openings, overall? We decided to investigate.
Grand Canyon University (GCU), in partnership with Grand Canyon Education, conducted a study utilizing LinkedIn data to determine which industries are hiring the most in the U.S., based on the number of open job postings in each major industry sector. We broke down our findings by state and nationwide.
Methodology
Using LinkedIn's job search database,2 we searched the number of LinkedIn job listings across the following industries:
Computer Software
Construction
Defense and Space
Education
Financial Services
Food and Beverage
Health, Wellness and Fitness
Hospital and Healthcare
Hospitality
Information Technology and Services
Marketing and Advertising
Pharmaceuticals
Retail
Staffing and Recruiting
Transportation, Trucking and Railroad
For each state, we utilized LinkedIn's industry filter option to search for the number of open jobs within each of the above industries. From there, we were able to uncover which industries had the most open job vacancies on LinkedIn. Read on to see what we found!
The Industries Hiring the Most in the U.S.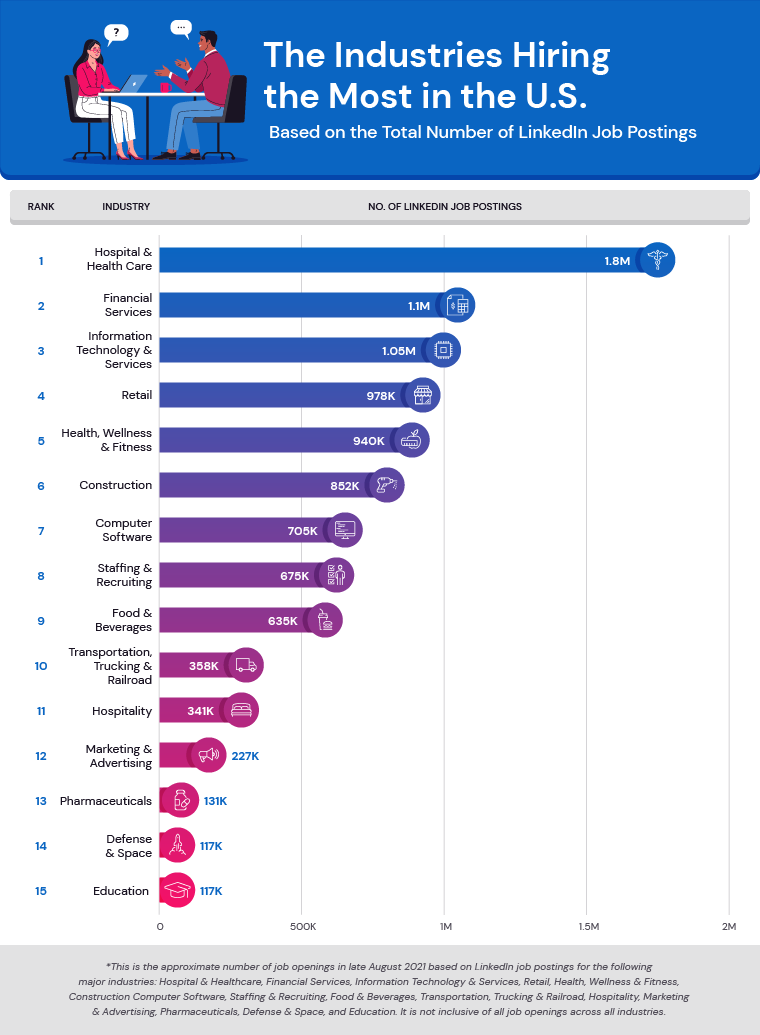 Two years into the COVID-19 pandemic, it's no surprise that the hospital and healthcare industry is hiring more than any other industry. There are over 1.8 million job postings on LinkedIn for this industry alone. To put that into perspective, that's more than double the number of computer software industry listings, and greater than the number of education, defense and space, pharmaceuticals, marketing and advertising, hospitality and transportation job listings combined!
This is also substantially higher than the industry hiring the second-most, financial services. At over 1.1 million job listings on LinkedIn, financial services ranked second-highest in our list of the U.S. industries hiring the most.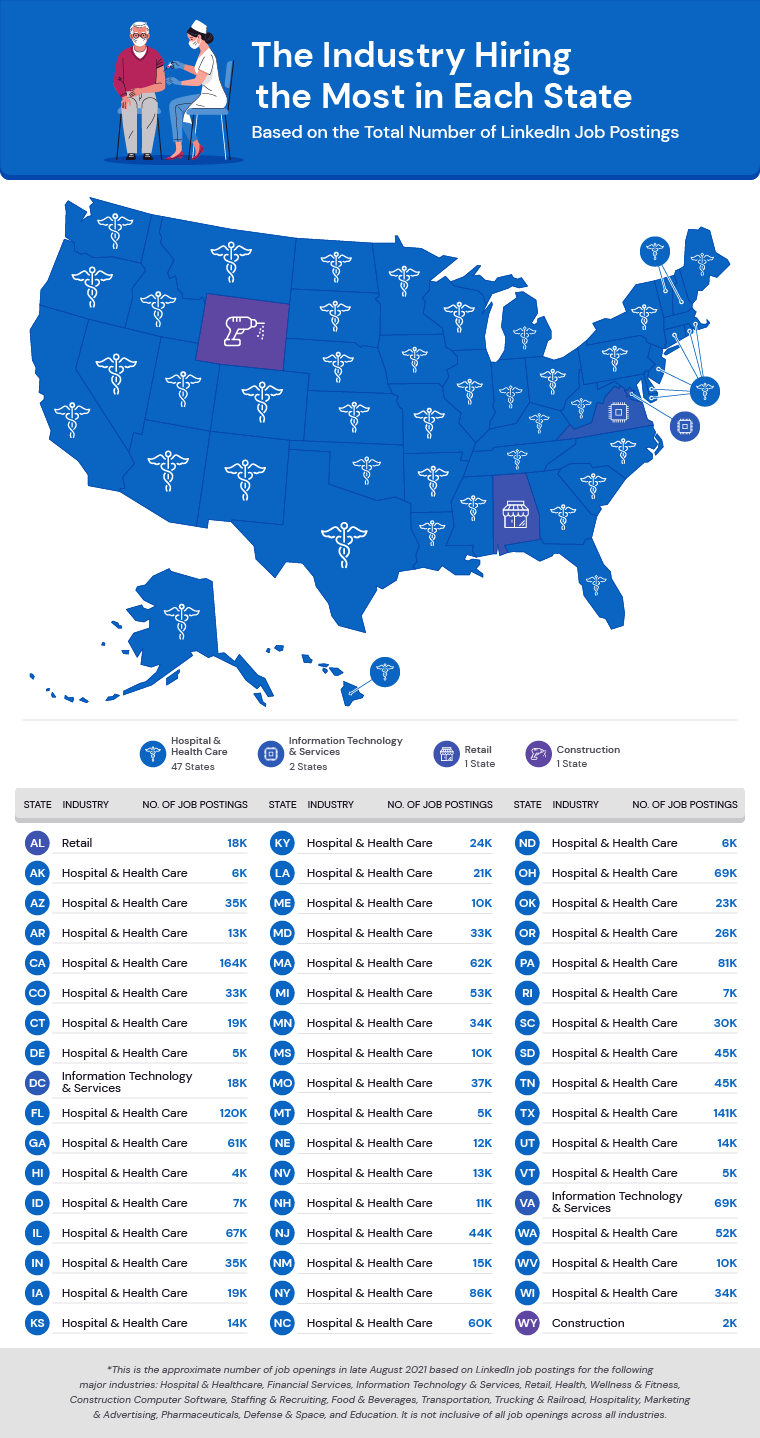 Next, we broke down our findings in a state-by-state analysis to determine which industries are hiring the most, and where. The hospital and healthcare industry has the most job listings in a large majority of states, ranking first in an impressive 47 states. Florida, Texas and California are especially in need of hospital and healthcare workers, with approximately 120K, 141K, and 164K LinkedIn job listings, respectively.
Hospital and healthcare ranked first in every state except for Alabama, Virginia and Wyoming. District of Columbia was also accounted for and ranked highest in the information technology and services industry. However, out of these four states (including D.C.) that did not have the most hospital and healthcare industry listings, this industry ranked second in three out of the four states.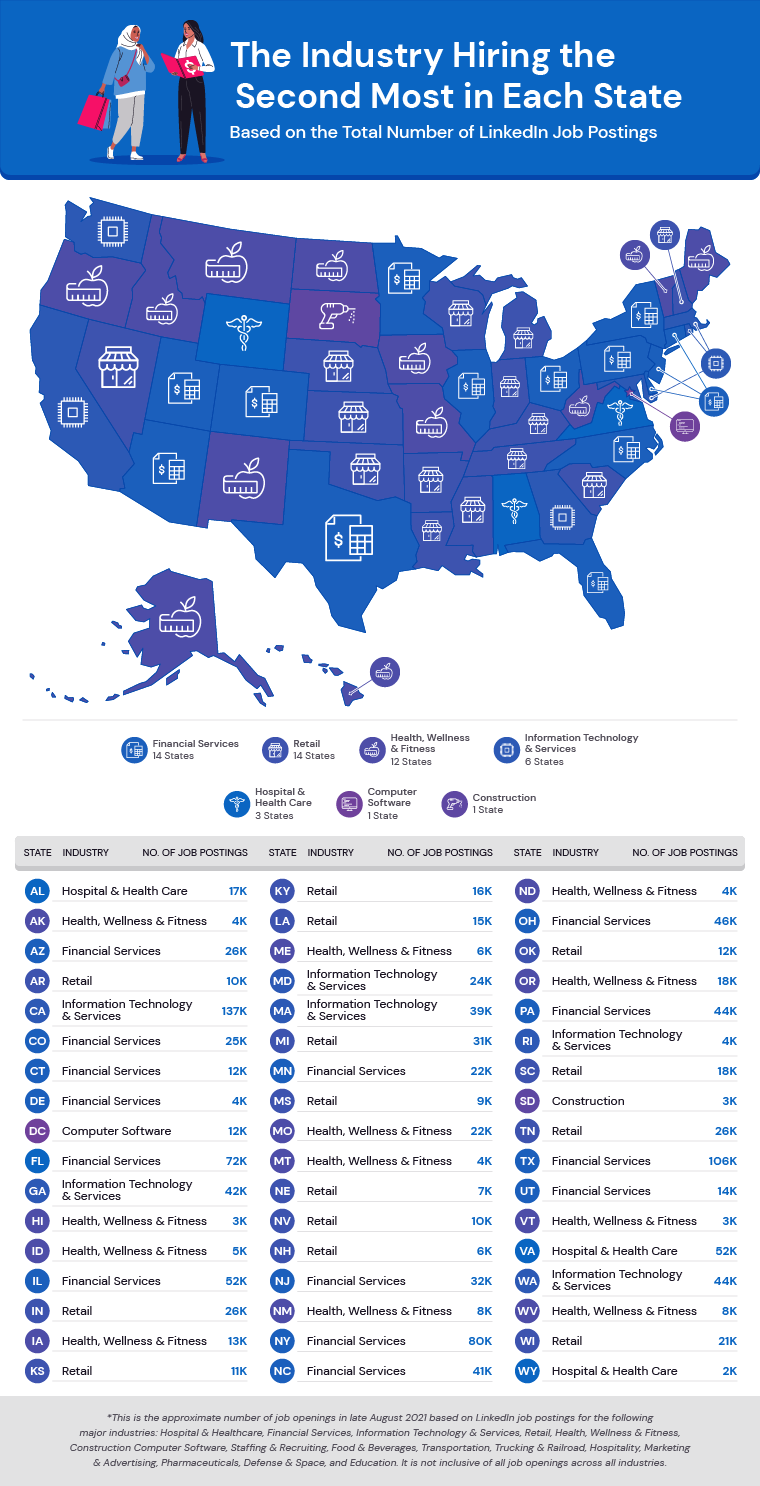 With hospital and healthcare dominating the map of the top-hiring industry in each state, we decided to take a look at what other industries fell just short of the title. Common industries that are hiring the second-most include financial services, health, wellness and fitness, information technology and retail. Which industry is hiring the second-most in the state that you live in?
Final Thoughts
Understanding which industries are currently hiring the most is helpful in deciding which career path to take. GCU's wide variety of degree programs are designed to help you succeed in whichever field you choose, from nursing and healthcare to engineering and technology.
This study covers the approximate number of job openings in late August 2021 based on LinkedIn job postings for the following major industries: Hospital and Healthcare, Financial Services, Information Technology and Services, Retail, Health, Wellness and Fitness, Construction, Computer Software, Staffing and Recruiting, Food and Beverages, Transportation, Trucking and Railroad, Hospitality, Marketing and Advertising, Pharmaceuticals, Defense and Space and Education. It is not inclusive of all job openings across all industries.
Retrieved from:
1 New York Times, "This Is the Job Market We've Been Waiting For" in Oct. 2021
2LinkedIn Job Database in Aug. 2021
Scroll back to top