Most Googled Type of Nurse in Each State
The Different Types of Nurses Each State is Googling the Most
The pandemic brought about labor shortages in many different industries, but the impact on nursing is being felt all over the country. For instance, there are several hundred open nursing positions that need to be filled at Mount Sinai Hospital in New York — an issue that isn't exclusive to large cities, nor projected to be resolved anytime soon.1
With such real-world consequences like nursing burnout and longer patient waiting times, nurses are being recruited like never before.2 With all the buzz surrounding nursing, Grand Canyon University (GCU), in partnership with Grand Canyon Education (GCE), discovered the different types of nurses each state is googling the most, according to Google Trends data.
Will it be a travel nurse who gets contracted out to new cities every few months for a different change of pace? Or are some states leaning toward labor and delivery nurses that care for newborns and mothers? Remain steady under pressure like a nurse and learn about some of the top nursing specialties in demand and the most popular nursing careers in each state.
In This Blog
Methodology
Using sources such as Indeed, Incredible Health and Registered Nursing, we created a strong list of 43 search terms for different types of nurses.3,4,5 The Google Trends data was collected from July 2021 to July 2022. Learn about some of the best nursing specialties and find out if nurse educators, triage nurses, radiology nurses or mental health nurses beat out our list of other top contenders!
The Most Googled Type of Nurse in Every U.S. State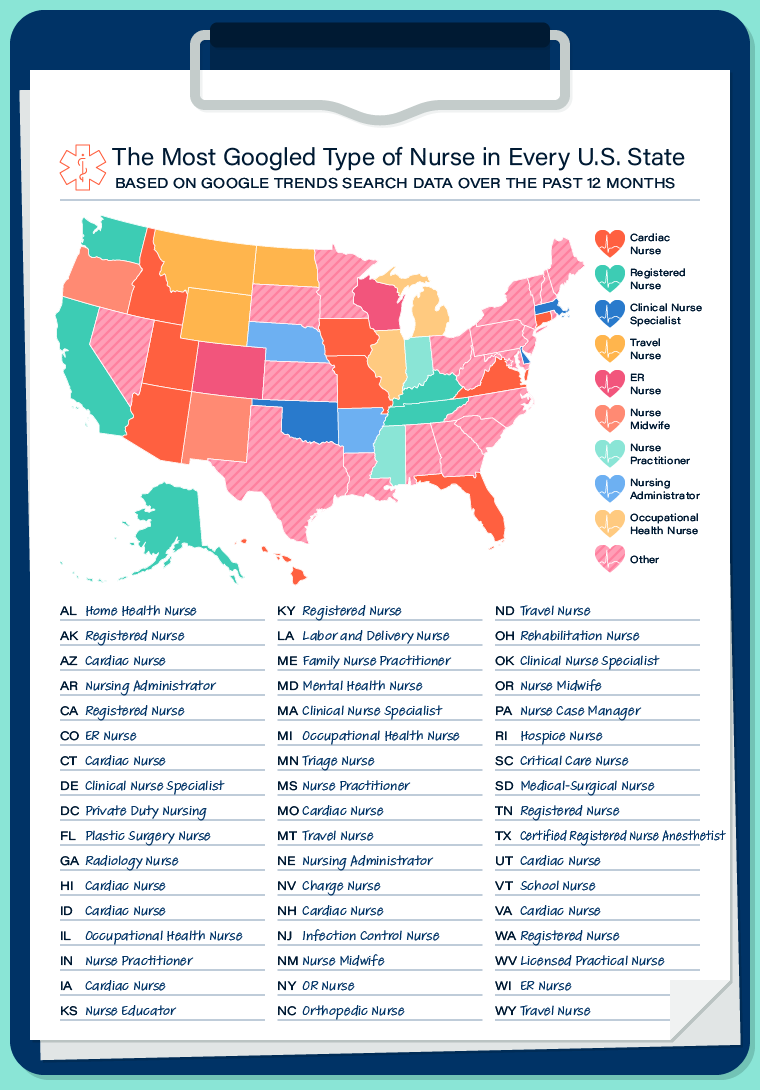 Nursing is by no means an easy profession. The long shifts, life-or-death decisions, continuing education and numerous hospital protocols can make this a challenging but rewarding career path. Still, nurses go above and beyond the call of duty to make a difference in the lives of their patients every single day. With Google searches on how to become a nurse skyrocketing, it begs the question: What different types of nurses are states searching for the most?6
Arkansas and Nebraska had the highest search interest for nursing administrators, a type of nurse that supervises staff in departments, healthcare facilities and nursing homes.7 Arkansas is known to have good coworkers who are flexible and thoughtful, providing one explanation as to why the state leans toward a career in nursing administration.8 Nebraska is one of the least-stressed out states according to Moving.com, which is a great quality for nursing administrators, who may have to deal with different personalities throughout their workday.9
A nurse midwife career is one of the most searched nursing specialties in New Mexico and Oregon. Not to be confused with a doula, certified nurse-midwives and certified midwives have obtained a graduate-level midwifery program from an accredited institution.10 As midwives can cater to the unique experience of home birth, it makes sense that Oregon, one of the top 10 states with the highest home birth rates, would be interested in this type of nurse.11
One of the best nursing specialties getting some well-deserved attention out of New York are operating room nurses, also known as OR nurses. Netflix's "Lenox Hill," a docuseries based in New York, featured a behind the scenes look at nurses and doctors in the operating room — perhaps inspiring New Yorkers to get in on the action.12
The Most Googled Type of Nurse in Every U.S. Region
Cardiac nurses, who work with those who have heart disease and other cardiovascular problems, was one of the top nursing specialties in demand in both the Northeast and Western parts of the U.S.13 Residents of Utah (Western) and Connecticut (Northeast) are hyper-focused on preventing cardiovascular deaths, which may explain why these regions have astoundingly low heart disease-related deaths.14
Registered nurses (RN) who passed their National Council Licensure Examination (NCLEX-RN) garnered the highest search interest in the South from states such as Kentucky and Tennessee.15 A recent study revealed that Kentucky is on the verge of a nursing shortage crisis, creating a potential 88,000 openings. Sadly, this could be one possible explanation for why residents were interested in searching for registered nurses and jumping at this as a potential career opportunity.16
Like other first responders, nurses will always be needed, which makes it a solid career path. As of September 2021, 276,800 new jobs are estimated to open for registered nurses from 2020 to 2030.17 This could be one more reason why states are clamoring to learn more about a career as a registered nurse.
In the Midwest, Illinois and Michigan residents were captured by occupational health nurses, a type of nurse that implements programs on health and safety for employees who may have been injured at work.18 They also ensure nurses get proper medical attention and follow-up care if they are injured.
The Most Googled Type of Nurse Overall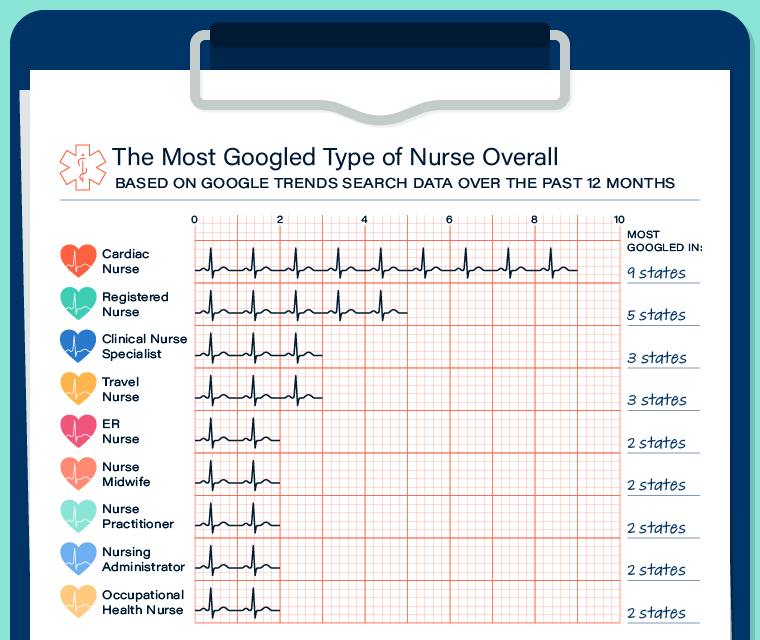 With heart disease being the leading cause of death in the U.S., it's no surprise that cardiac nurses were one of the top nursing specialties in high demand in states such as Arizona, Hawaii, Missouri and Virginia.19 Registered nurses came in a close second in states such as Alaska, California, Tennessee and Washington. Some hospitals, such as those located in the state of Washington, are now offering hefty sign-on bonuses to registered nurses, up to $15,000, which could be drawing in potential applicants.20
As the name suggests, travel nurses are one of the few different types of nurses that can sign up for assignments in different cities all over the country. Travel nurses had the highest search interest in Montana, North Dakota and Wyoming.
On the flip side, Colorado and Wisconsin are ranked at the top for the most adventurous residents, which is why it's no surprise people in these states often search emergency room (ER) nurses, front-line nurses caring for patients in emergency situations like accidents.21 ER nurses must be ready to stabilize patients, suture wounds, educate their patients, administer medications and advocate on their patient's behalf.
Closing Thoughts
No matter where you live in the U.S., every type of nurse makes a substantial impact on society and delivers unique levels of patient care, making this an incredibly in-demand career. With the current job openings and job security that nursing offers, there's no time like the present to take the first step toward a career in nursing. Once you earn your RN degree, you will be ready to advance in the healthcare industry. Explore GCU's nursing degrees and healthcare degree programs and pick from a wide range of some of the best nursing specialties to find the right fit for you. Whether you choose to pursue the top searched cardiac nurse career or become an adventurous travel nurse, nursing careers offer endless opportunities!
The College of Nursing and Health Care Professions at GCU offers a broad range of undergraduate and graduate nursing degree options, including the Master of Science in Nursing: Family Nurse Practitioner program. If your goal is to become an in-demand cardiac nurse, traveling nurse, labor and delivery nurse or geriatric nurse, consider joining our Christ-centered learning community to launch your career.
Retrieved from:
1 The New York Times, As U.S. Covid Hospitalizations Climb, a Chronic Nursing Shortage is Worsening in July 2022 
2 Healthline, Understanding the American Nursing Shortage in August 2021
3 Indeed, 62 Types of Nurses: The Most In-Demand and Highest-Paying Nursing Specialties in July 2022
4 Incredible Health, 15+ Types of Nurses with Job Descriptions and Salaries
5 Registered Nursing, Nursing Careers and Specialties for RNs
6 Nursing in Practice, Surge in Google Searches on How to Become a Nurse in July 2022
7 Nurse Journal, Nurse Administrator Career Overview in August 2022
8 CapRelo, What Makes a Great Coworker? in August 2022
9 Moving, These Are the 10 Least Stressed States in America in August 2017
10 American College of Nurse-Midwives, About the Midwifery Profession in August 2022
11 Statista, Top U.S. States Based on Home Birth Rate in 2020 in August 2022
12 Time, Netflix Docuseries Lenox Hill Is a Moving, Timely Look at the Everyday Heroism of Doctors in August 2022
13 Nurse Journal, Cardiac Nurse Career Overview in August 2022
14 CDC, Heart Disease Mortality by State in August 2022
15 Nursing Education, States with the highest pass rates on the nursing licensure exam in August 2022
16 WHAS11, Kentucky Facing a Nursing Shortage; Bellarmine Adds New Program to Assist in August 2022
17 COVID-19 has adversely affected the global economy and data from 2020 may be atypical compared to prior years. The pandemic may impact the predicted future workforce outcomes indicated by the U.S. Bureau of Labor Statistics as well. Accordingly, the data shown is based on September 2021, which can be found here: U.S. Bureau of Labor Statistics, Registered Nurses, retrieved in August 2022.
18 Explore Health Careers, Occupational Health Nurse in August 2022
19 Healthline, What Are the 12 Leading Causes of Death in the United States? in August 2022
20 The News Tribune, Thurston, Pierce County Healthcare Jobs Offer Medical Professionals Hefty Signing Bonuses in August 2022
21 TermLife2Go, These Are the Most Adventurous States in the U.S. in August 2022
Approved by the Executive Director of Communications and Public Relations on 09/08/2022.
The views and opinions expressed in this article are those of the author's and do not necessarily reflect the official policy or position of Grand Canyon University. Any sources cited were accurate as of the publish date.