Grand Canyon University's Scholarship Philosophy
By Judah Esparza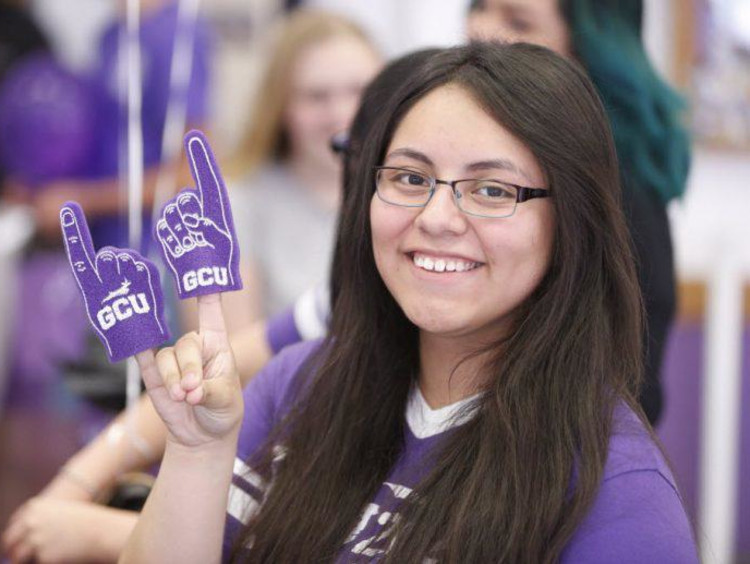 The cost of college tuition can be overwhelming, especially to parents and students who are evaluating the cost of a college education for the first time! Grand Canyon University has formed its scholarship philosophy to not only provide students with an opportunity to lower costs, but to also help students graduate with less debt. At GCU, students can earn their degree from an exceptional private, Christian university at a truly affordable price! Here is a quick overview of scholarships at GCU:
Renewable Scholarships
Many institutional scholarships at GCU are automatically eligible for annual renewal for up to four traditional (fall/spring) academic years! Many students graduate from GCU in four years or less, so this means that scholarships can be applied to each school year's tuition up until the day you graduate. GCU also provides transparency when it comes to scholarship renewal – renewal criteria are published online so that you know how well you need to do in your classes in order to keep or even increase your scholarship.
Renewable scholarships are a helpful form of financial aid to help you save money. At GCU, our priority is not only awarding incoming students scholarship money, but also helping current students maintain or increase their scholarship so that they can graduate with less debt. 
GPA-Based Scholarships
Your junior and senior years of high school consist of standardized tests, including the ACT and/or SAT. If you excel in your studies, but do not perform well on tests, we have good news! GCU institutional scholarships may be granted based on cumulative GPA, not test scores! GCU offers scholarships that vary in amount based on GPA, ACT or SAT scores. This means that you may be awarded a higher scholarship based on an exceptional GPA or a strong ACT or SAT score, allowing you to earn scholarship money based on your strengths.
Increasing Scholarships
Another unique aspect to Grand Canyon University's scholarship philosophy is that students are given the opportunity to increase their scholarship award while studying at GCU! For example, a campus student who comes to GCU with a 3.5 GPA would qualify for a Direct Start Dean Scholarship, which is valued at $5,750 for the 2017-18 academic year. If this student performed exceptionally well during their first year at GCU and earned a 3.7 GPA, they may qualify for the Provost Scholarship, which is currently valued at $6,750 per year. This allows students who perform well to earn more scholarship money, helping students stay motivated throughout their time in college.
GCU's scholarship philosophy is student-centric. Not only does GCU want to see students succeed by offering accessible and renewable scholarship opportunities, but they also motivate students to keep working hard by offering them the chance to earn a higher scholarship each year!
Grand Canyon University is committed to offering students an affordable, private, Christian education and offers many ways for students to lower their costs! To learn more about GCU's scholarship programs, visit our website or click the Request More Information button at the top of the page.