The Top US Cities for Healthcare Jobs
On the frontlines of the fight against COVID-19 in the United States, healthcare workers are one of the most vital groups of essential workers in our economy. Despite job loss in recent months due to economic hardship, jobs in the healthcare industry are projected to grow post-pandemic, adding a million jobs by 2028.
However, given that the fight against COVID-19 is still far from over, we here at Grand Canyon University saw the need for more research on where healthcare jobs are concentrated right now. In particular, our team wanted to conduct an analysis of the healthcare job market in various cities around the country. We wanted to gain an understanding of the best cities for healthcare jobs in the U.S., for our students, current workers and those that are both.
We gathered information from many different sources in order to create an up-to-date ranking on the top U.S. cities for healthcare jobs. For students or anyone looking to relocate in order to start or pivot their careers, we hope this resource will be helpful in your search.
If this field is something you are passionate about, we are proud to offer multiple degrees in the healthcare field here at Grand Canyon University. Our many online degree options allow significant flexibility to students in uncertain times and beyond. Consider a degree in nursing or health care administration to start your career, or advance your career with an MSN or DNP degree.
Table of Contents:
Methodology
We collected data for these factors from the following sources for the 50 largest metropolitan areas in the United States to determine the best cities for healthcare jobs in the U.S. right now, considering the job market, cost of living and other indicators.
Factors:
To calculate the percent change in healthcare jobs over the first half of April, we manually collected data from LinkedIn's jobs feature to get a sense of the number of positions hiring in real-time. Data from the Bureau of Labor Statistics was collected for the job category "Healthcare Practitioners and Technical Occupations," a sector defined by the BLS that includes many different kinds of healthcare professionals.
Note: Factor weights are determined by the research team's judgment on what is most important to the ranking. When determining the best cities for healthcare jobs, we determined the most crucial factors to be the percent change in open jobs and the annual mean wage for healthcare occupations. Secondary factors include average location quotient and employment per 1,000 jobs, as these give an indication of how popular the healthcare field is in a given area and how robust the job market is. The lowest rated factors were the living wage and average rent for each city, as these are not directly tied to hospital and healthcare jobs, but are more quality of life factors that speak to the desirability of living in a city.
New Lower RN to BSN Tuition
Only $340 Per Credit1
GCU just lowered the price of our accredited RN to BSN program by 30% to help make college more affordable!
Get Started
The Top U.S. Cities for Healthcare Jobs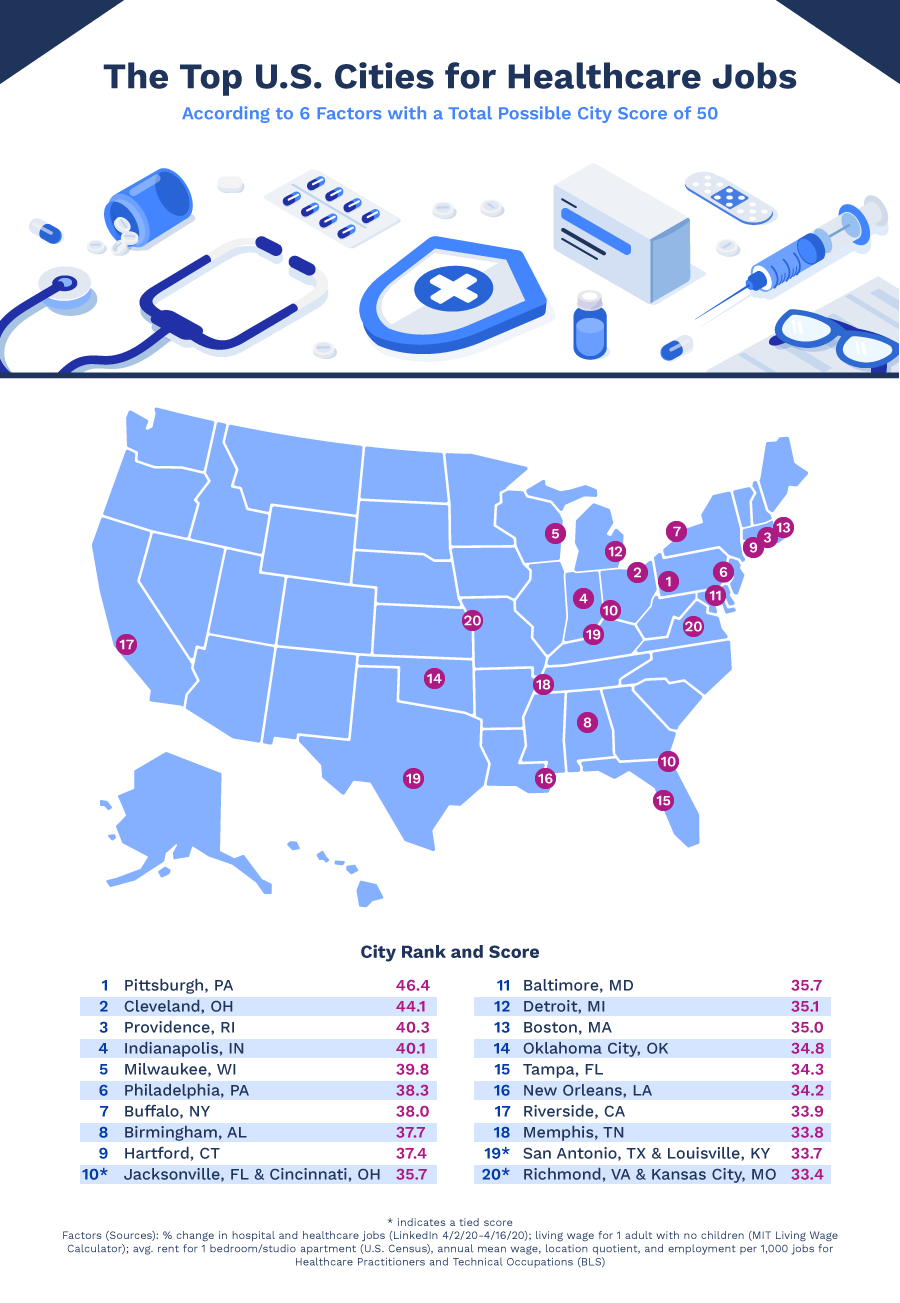 According to our analysis, the top five cities for healthcare jobs in the U.S. right now are Pittsburgh, PA, Cleveland, OH, Providence, RI, Indianapolis, IN and Milwaukee, WI. These cities include a combination of robust job markets for the healthcare field with a relatively lower cost of living to make for a great place to live and work in the medical field.
Particularly, Pittsburgh saw an 80% increase in open healthcare jobs during the month of April, which is significant as it is one of the only cities that saw a net positive change, as the healthcare industry saw record job losses these past few months. Many of these job losses were in non-emergency care, such as physician's offices and dental offices. Hospitals did not fare as badly, but many are suffering from the recent loss of lucrative elective procedures that keep their cash flow steady.
With the rise of telemedicine and with Congressional discussions on how to best support the vitality of hospitals and healthcare offices underway, the industry is certainly facing unprecedented changes and challenges. However, the importance of hospital and healthcare workers is not going anywhere. Learn more about our resources at the College of Nursing and Health Care Professions programs to see if any might be a good fit.
Full Data
Interested in diving deeper into the numbers for the top cities, or wanting to see how your city stacks up if it's not on the above map? We've compiled our full data study for the 50 largest metropolitan areas in the United States into the interactive data table below. Just click on the heading of each column to sort by that category!
1Cannot be used in conjunction with other GCU scholarships or awards.
The views and opinions expressed in this article are those of the author's and do not necessarily reflect the official policy or position of Grand Canyon University. Any sources cited were accurate as of the publish date.