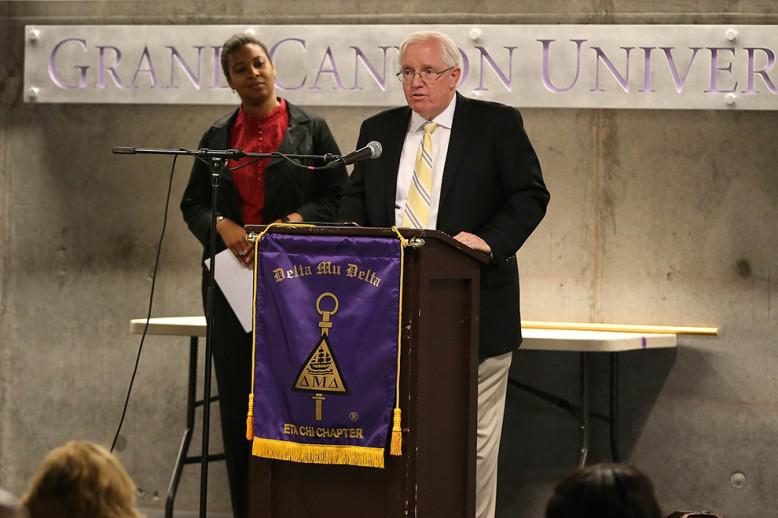 By Kevin McClean, DPS
Faculty, Colangelo College of Business
Posted on August 20, 2015
in
[ Business & Management ]
For business students looking to enhance their academic experience while earning their degree, Delta Mu Delta offers an opportunity to advance business knowledge, earn scholarships and network and build relationships.
So what is Delta Mu Delta, the international honor society in business, really all about?
From the Delta Mu Delta website: "Delta Mu Delta is a business honor society that recognizes and encourages academic excellence of students at qualifying colleges and universities to create a DMD community that fosters the well-being of its individual members and the business community through life-time membership."
Grand Canyon University has sponsored a chapter of the society since 1995, the Eta Chi Chapter. We have inducted over 1,000 members since inception, with 171 new members inducted in the most recent academic year.
Membership to Delta Mu Delta is by invitation only. Upper division students who meet the following requirements are eligible for membership:
Undergraduate junior or senior, including transfer students who have completed at least 20 credits at Grand Canyon University and MBA students that complete more than 20 credits
Must be enrolled in a program accredited by the Accreditation Council of Business Schools and Programs, our professional accreditation agency
At least a 3.6 grade point average
In the top 20 percent of their class
We normally extend invitations to eligible students in the spring and fall semesters of each year, based on student performance measured at May and September.
We encourage you to do exceptionally well as a student at GCU, and our faculty are fully committed to helping you as you find your purpose. For more information about Delta Mu Delta at GCU, press the Request More Information button at the top of the page to contact us today!
About Colangelo College of Business
Business Buzz is a blog that features content written by faculty, staff and students from Grand Canyon University's Colangelo College of Business. In addition to profiles about events, students and faculty on campus, you'll also find insight and perspective on the ever-changing business discipline and current global business topics. Learn about the modern business landscape, and how business today continues to grow and evolve to meet the needs of organizations and consumers in the 21st century. Check in every week for the latest news from the business community and around GCU.
---
---