The Most Popular Movie & TV Bosses, According to Google
Not every boss is as tough as Miranda Bailey, as smart as Dr. Gregory House or as fun as Leslie Knope. There are certain characteristics of beloved, fictional bosses from TV shows and films we wish our own bosses possessed. Good bosses instruct their team while great bosses get into the ring and lead by example. Take a page or two from TV bosses like Obi-Wan Kenobi and learn how to disciple the next generation. With a little help from a business degree, before you know it, you'll master motivational speeches like Michael Scott. In celebration of National Boss's day (October 16, 2022) and to honor bosses that empower their employees, Grand Canyon University (GCU), in partnership with Grand Canyon Education (GCE), analyzed the Google search volume of 40-plus fictional bosses to find every U.S. state's favorite boss from the small and silver screen.
Read on to find out which movie or TV bosses are most popular in your state and which traits you'd like to emulate one day as CEO.
Methodology
Using Ranker and Hypercontext, we pulled a list of 41 fictional bosses.1, 2  We analyzed the search interest of each boss across the U.S. from June 2021 to June 2022 to uncover the best bosses in TV shows and movies, according to Google. Find out which movie and TV bosses each state is most obsessed with.
Each State's Favorite Boss in TV Shows & Movies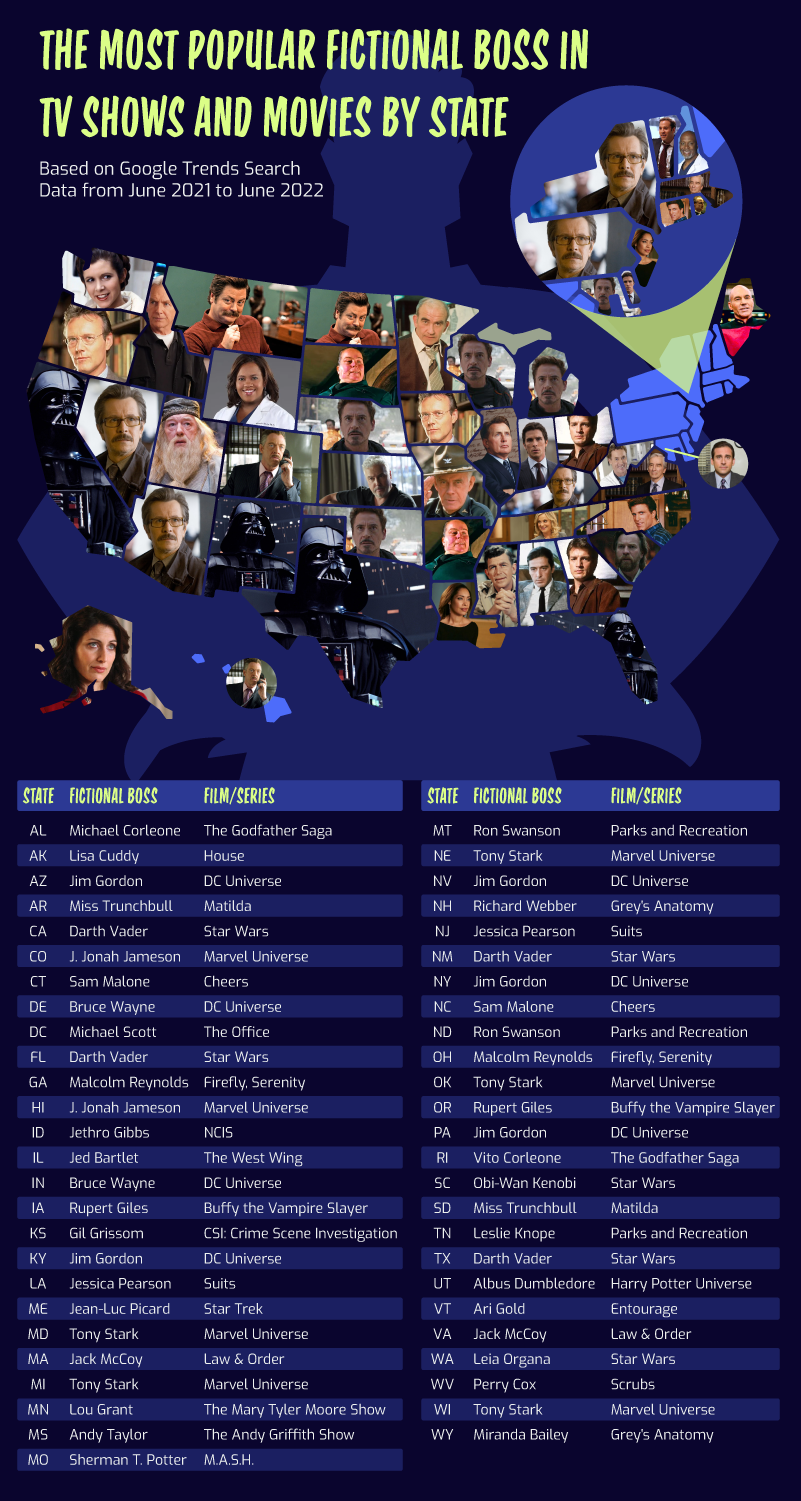 The results are in and some are more predictable than others. Jim Gordon, Gotham City's dedicated police commissioner from The Dark Knight trilogy is most popular in New York, which isn't a huge surprise given Gotham City is primarily influenced by New York City.3 Jim Gordon understands the needs and limitations of his workforce while providing transparency and updates to Batman, two qualities that research shows make for an effective leader.4
Indiana is home to a Guinness World Records resident, who at one time boasted the biggest collection of batman memorabilia anywhere, which could explain the state's love of Bruce Wayne (i.e., Batman).5 You can still view his 1,200 sq. ft. collection today, which he donated to the Children's Museum of Indianapolis for residents of all ages to enjoy.
We assumed Indiana's favorite would be Ron Swanson or Leslie Knope, two peculiar, yet hardworking bosses from "Parks and Recreation," famously set in the fictional town of Pawnee, Indiana.6 Instead, Ron Swanson was the most popular in places a few hundred miles west in the states of Montana and North Dakota, while Leslie Knope reigned supreme in the Southern state of Tennessee.
Michael Scott, star of "The Office," Dunder Mifflin's goofy, but lovable boss, is most popular in our nation's capital, Washington D.C. The Michael Scott fandom is evident with best-selling tee shirts sold on Etsy that don the slogan, "Michael Scott For President 2024."7 While Michael Scott didn't go to college (having lost all of his money due to a pyramid scheme), most CEOs possess undergraduate degrees in finance, business, computer science, healthcare or administration — all programs GCU offers.8
"Star Wars: Episode IV - A New Hope" (the first installment of the "Star Wars" series) brought us both good and evil characters like Darth Vader and Princess Leia. Darth Vader, an agent of the Empire, was the most popular boss in California, while Princess Leia was the favorite in Washington state. These "Star Wars" insights make sense given cities like Seattle, Washington, and San Diego, California, are well-known for their Comic-Con events where "the force" is strong.9
America's Favorite Movie & TV Bosses Overall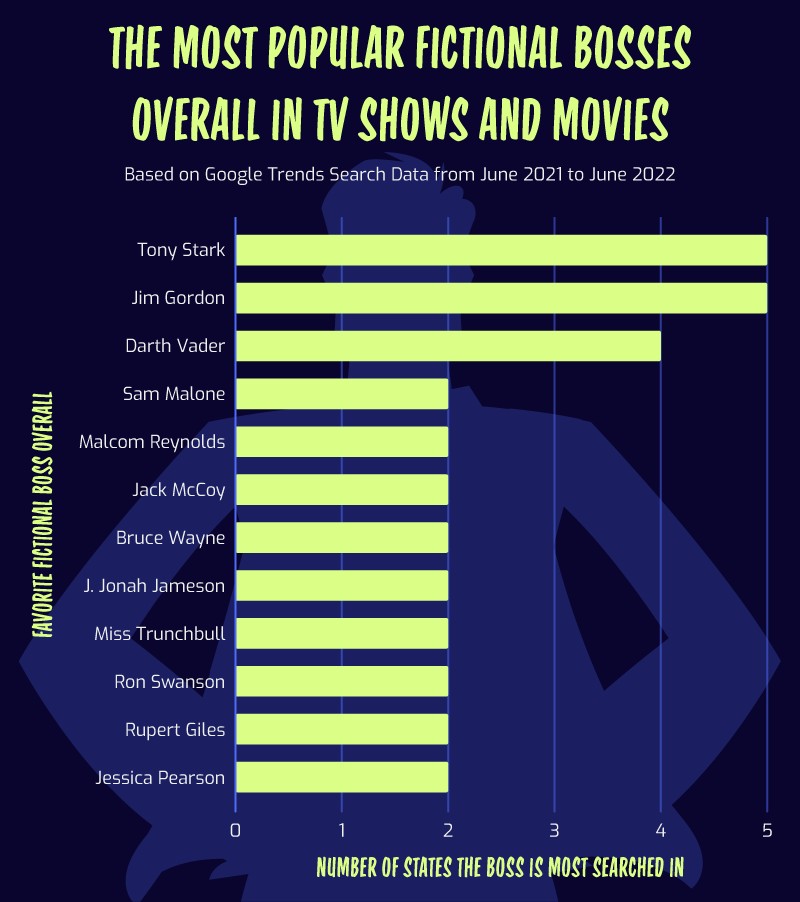 The best movie and TV bosses, overall, is a stalemate! Tony Stark (i.e., Iron Man) from the Marvel media franchise and Jim Gordon from The Dark Knight trilogy tie for the most popular fictional boss in the U.S. –– both most-searched in five states. Tony Stark is the winning boss in Maryland, Michigan, Nebraska, Oklahoma and Wisconsin.
Three out of the five states are located in the Midwest, proving residents in the middle of the country take a shine to Iron Man's innovative qualities, which make him a competent boss. The data doesn't lie either, as researchers at Google found that the best bosses encourage team members, limit micromanaging, and create a clear winning strategy for their team.10 Remember all of the world-saving measures Tony Stark delegated to his assistant, Pepper Potts, like downloading secret files off of Obadiah Stane's (the head of Stark Industries) computer?11 According to Google — he'd make a great boss!
Jim Gordan is the winning boss in GCU's home state, Arizona, as well as Kentucky, Nevada, New York and Pennsylvania. Clearly, residents in western and northeastern states are the most curious about Batman's most trusted ally, who served as Gotham's police commissioner for a decade — a much longer commitment than most executives serve in the real world, which is on average about 4.9 years.12
The evil Darth Vader and Sith Master from "Star Wars," follows as the third-most-popular fictional boss in the U.S. –– most-searched in four states. Fans of the villainous boss can meet Darth Vader at both Disneyland and Disney World, which could explain why both California and Florida are drawn to the dark side. Several fictional bosses take the title of honorable mention, most popular in two states, including Jack McCoy from "Law and Order" and J. Jonah Jameson from "Spider-Man."
Closing Thoughts
Perhaps not all of these fictional bosses are manager material, but others are iconic enough to use as motivation to become your own boss. While we can't all have the supernatural powers of film bosses like Tony Stark or Bruce Wayne, we can all learn the traits necessary to become strong and effective leaders.
Interested in paving a path toward managing? Learn more about pursuing an MBA with an Emphasis in Leadership degree, where students will focus on management responsibilities like identifying and cultivating talent and performance, maintaining organizational culture and motivating team success.
Retrieved from:
1 Ranker, The Greatest Fictional Bosses, in July 2022
2 Hypercontext, 10 of the Best and Worst Bosses in TV and Film, in July 2022
3 Untapped Cities, Why is New York City Called Gotham? A Nickname with a Millenium of History, in July 2022
4 Forbes, Research Shows These 5 Qualities Make You a More Effective Leader, in July 2022
5 WTHR, Former World Record Holder For Biggest Batman Collection Lives in Indiana, in July 2022
6 Looper, Parks And Recreation: The Untold Truth Of Pawnee, Indiana, in July 2022
7 Etsy, Michael Scott For President 2024 Unisex T-Shirt, in July 2022
8 Indeed, Top Degree Paths for CEOs, in July 2022
9 Comic-Con, About Comic-Con International, in July 2022
10 The Guardian, Google Released Research on What Makes a Good Boss, in July 2022
11 Slideshow, Top 10 Tony Stark and Pepper Potts MCU Moments, in July 2022
12 M&A Executive Search Global Recruiting and Consulting, Average C-Suite Tenure and Other Important Executive Facts - Updated for 2022, in July 2022
Approved by the Executive Director of Communications and Public Relations on Aug. 18, 2022. 
The views and opinions expressed in this article are those of the author's and do not necessarily reflect the official policy or position of Grand Canyon University. Any sources cited were accurate as of the publish date.