For over 60 years, Grand Canyon University (GCU) has proudly maintained its rich heritage as a prestigious teaching college, both on campus and online. Our College of Education (COE) continues to prepare policymakers, school administrators and educators who strive to deliver quality education and enrich lives across a variety of academic and community settings.   
While GCU's College of Education is committed to nurturing your development into an outstanding educator, our dedication to your success extends beyond the classroom. We instill the spirit of servant leadership, innovation and service into each program through One Foundation, our Christian worldview.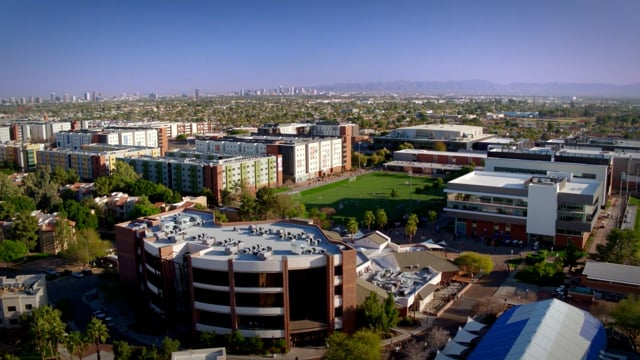 The College of Education inspires excellence in pedagogy and scholarship; advances reflective, innovative and collaborative teaching practices to maximize student learning and achievement; promotes servant leadership in educational communities; and engages a diverse and global community of learners with purpose and passion.
Education Scholarships Now Available
You may be able to offset tuition costs with a GCU scholarship.
View Scholarships
Education degree programs that lead to licensure in the College of Education are approved by the Arizona Department of Education. 
Why do future educators choose GCU?
GCU's College of Education offers initial teacher preparation options for bachelor's and master's education degrees.
Field experience, exam preparation and student teaching are part of your learning journey.
The curriculum for our education and teaching degrees online and on-campus align with national standards.
Alternative Teaching Program
The Alternative Teaching Program at GCU's College of Education is another pathway to teacher licensure that is designed for students who have secured a contract with a district and who are currently enrolled and actively participating in select master's degree programs.
Under the Alternative Teaching Program, education majors who meet specific eligibility requirements work under contract in an appropriate classroom while completing their coursework.
To be eligible, you must:
Have an official transcript showing a bachelor's degree from an accredited institution
Hold a current AZ IVP Fingerprint Clearance Card
Have a full-time contracted teaching offer/position in an area that meets the requirements for the Alternative Teaching Program and the requirements of your program of study
Be currently enrolled and actively participating in an eligible master's program
Have a completed Alternative Teaching Packet
For more information, contact a university counselor.
Continuing Education Credits for Teachers
GCU is an educator's preferred choice for continuing education credits. If you are seeking recertification, licensure, endorsements or looking to grow your teaching career, GCU's College of Education offers timely and affordable continuing education courses online or on campus to fit your schedule.
Accreditation
The College of Education aligns its curriculum with the standards set by the Higher Learning Commission, national accreditors and professional affiliates. These standards help us produce credible, qualified teachers and professionals through our education and teaching degrees online and on-campus.
Admission Requirements
For more information on the requirements for admission and the steps needed for the application process, visit our Admissions Requirements page.
As a Christian university, Grand Canyon University and the College of Education take a proactive approach to developing students' servant leadership skills and ensuring the success of our alumni in educational settings. While the college's accredited programs are designed to prepare and equip students for a career in the field of education, we (faculty, staff and college leaders) understand the unique opportunities and challenges a career in education might present. We promise to assist all COE graduates who need additional support or who are experiencing challenges in an educational setting; and since 1984, we have upheld this promise. Support might include content-area teaching materials, certification testing resources, course curriculum assistance or faculty mentoring. To honor this promise, the College of Education asks graduates to pledge to uphold a high level of excellence in their educational setting.
Learning
We at GCU's College of Education believe that all students can learn and that highly effective teaching and administration maximize best practices and student learning achievements. Effective teachers and administrators are highly educated, skilled, committed and compassionate. They ensure all students learn to the best of their ability.
Leading
We believe education is a powerful tool with which to purposefully engage a diverse, global community. As our teacher and administrator candidates find their purpose and calling within education, they seek to lead others to reach their God-given potential in order for them to influence the changing world.
Serving
We believe in the spirit of servant leadership and are committed to serving all students within our local and broader educational communities. We believe in leading with creativity and innovation in our profession with a commitment to personal integrity, professional ethics, collaboration and excellence for all.