College of Nursing and Health Care Professions
The College of Nursing and Health Care Professions has a nearly 35-year tradition of preparing students to fill evolving healthcare roles as highly qualified professionals educated in direct care, management, health education and administration. Grand Canyon University's (GCU's) College of Nursing and Health Care Professions' online nursing programs were ranked the third most popular online nursing program nationwide in 20211 and they help prepare tomorrow's healthcare leaders.
Grand Canyon University's (GCU) nursing programs use in-class and online environments to advance critical thinking, professionalism, accountability and ethical decision-making by applying science, health and nursing theories. This is all fulfilled within our Christian identity and mission, known as One Foundation.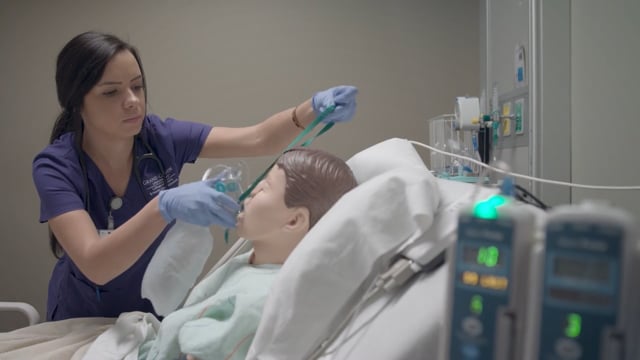 The mission of the College of Nursing and Health Care Professions is to develop professionals using systems- and evidence-based practice to promote health, wellness, safety and quality care for individual patients and populations. It is supported by an academically rigorous liberal arts education reflecting Christian values.
RN to BSN Tuition Reduction
Now $340 per Credit
GCU just lowered the price of our RN to BSN program by 30% to help make college more affordable
For more information on the accreditation of GCU's nursing programs and other university licensures, please visit our University Accreditation and Regulations page.
GCU's tuition rates and fees vary depending on your program and whether you will be an on-campus or online student. Read through our available scholarships and how GCU can help finance your educational journey.
Requirements differ based upon your intended program. Find more information and speak with a university counselor today on what is needed for admission into GCU.

GCU offers students and who hold a bachelor's degree in another field and those enrolled in the Maricopa County Community College District nursing program a faster way to their BSN or MSN degree. View more information about our Concurrent Enrollment.
The curriculum is built to encourage students to step back and view concepts specifically through a Christian worldview. We do this through including assignments that focus on Christianity and the Christian mission. We also discuss topics such as compassion, respect for human dignity and ethics, as well as create prayer forums, include scripture in announcements and encourage scripture reflection in discussion forums. Faculty engage with students from a servant perspective. Through these opportunities, students feel God's love through their instructors and college staff.
Students benefit from the care, concern and encouragement offered by faculty, staff and fellow students. They appreciate being able to share their views and values in the classroom and report that prayer and the reading of scripture motivate and assures them, especially during tests and difficult situations. Demonstrating our Christian mission helps students feel comfortable sharing their faith, and allows them to extend the Christian mission from their learning environment to personal and professional settings.
The faculty and students alike are all centered around creating wellness and encouraging the physical and mental wellbeing needed to pursue healthcare professions. Nurses, for example, typically have chosen a life dedicated to human flourishing — the nursing profession requires addressing the needs of the entire person, including spiritual and cultural needs. Faculty actively help students practice and follow Christian values in their personal and professional lives in the way that they engage with each another, and through integrating Christ-centered language into our principles.